Halloween is rapidly approaching, which means it's almost time to start making plans for the eerie season. The whole point of Halloween is to come up with creative ways to stand out from the crowd – from spooky décor to spine-tingling costumes. If you are looking for creative ideas to make this Halloween special, we have the perfect solution – "Halloween Nail Art Designs."
Imagine this: you have the perfect scary outfit, with make-up and hair done to match the theme, but hold up – what's that nail art? Yes, it's like pouring water on all your hard work! Simple and ordinary nails can spoil your entire Halloween vibe. So, if you don't want to be left behind, make sure your nails match the season. In this article, we are going to discuss the best Halloween nail art designs to add a spooky flair to your ensemble.
1. Red and Black Ghost Face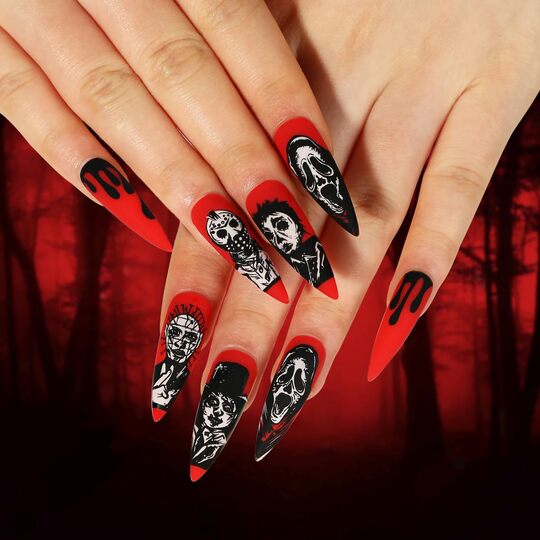 This is one of the classic Halloween nail art designs that goes well with any type of outfit. If you are looking for a feminine, sharp, and pointy look, you can never go wrong with stiletto nails. The red and black color combination with the ghost design just adds to the overall appeal. You can paint your nails blood red and then complement it with a scary ghost face design to get the Halloween look.
You can easily pair it with a black witch or vampire costume. It also blends with a white ghost outfit. To get this look, you don't need long nails or any manicure appointment. Simply buy these press-on nails online and get the perfect Halloween look.
2. Glow In The Dark Stiletto Nails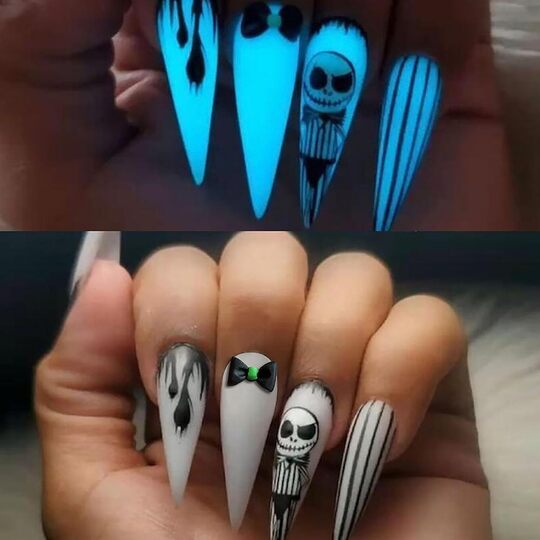 If you are aiming for something unique and creative this Halloween, try the glow-in-the-dark nail art. As the name goes, it glows in the dark with a spooky ghost face design. The sharp stiletto nails will give you a killer look when you attend a dark-themed Halloween party.
The neon color glows up in the dark room, drawing all the attention towards you. With these nails, you will become the center of attention. You can easily buy these matte-finish false nails with ghostly designs and follow simple steps to get salon-quality finish.
3. Cute Ghost Spider Web Design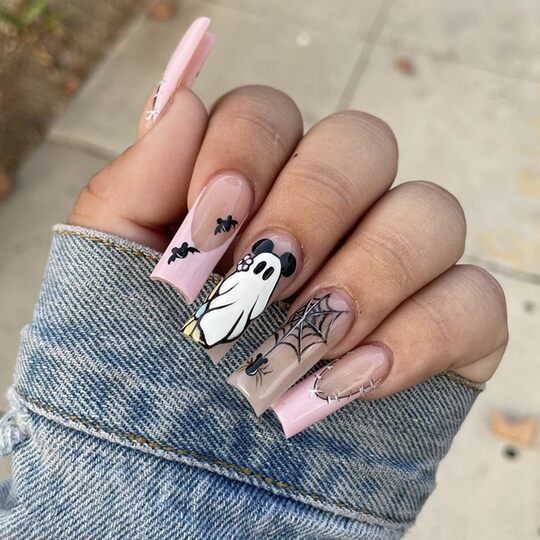 You can also go for cute ghost and spider Halloween nail art designs if you are not into scary stuff. Unlike other designs, this one will give you a cute and chic look. With long coffin-shaped nails with French tips, you can make your fingers appear long and cute at the same time.
The pink color makes the design stand out with minimal black and white spider web and ghost print. You can try this amazing nail decor to pair with your spooky and girly outfit. It goes well with white, black, and neutral tones.
4. 3D Rhinestone and Butterfly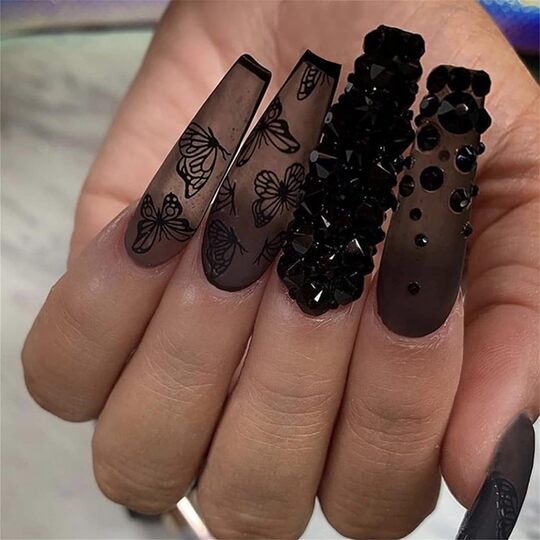 If you are looking for bold and exquisite Halloween nail ideas, this is the best nail art design to try. You can style your coffin nails with black rhinestones to give it a 3D appearance. Along with that, you can add a butterfly design to complement the shiny rhinestones.
This nail art design will give you the perfect dark and witchy look while making your nails appear beautiful at the same time. You can get this glamorous look with easy-to-use press-on nails at just a fraction of the cost.
5. Cute Pumpkin Design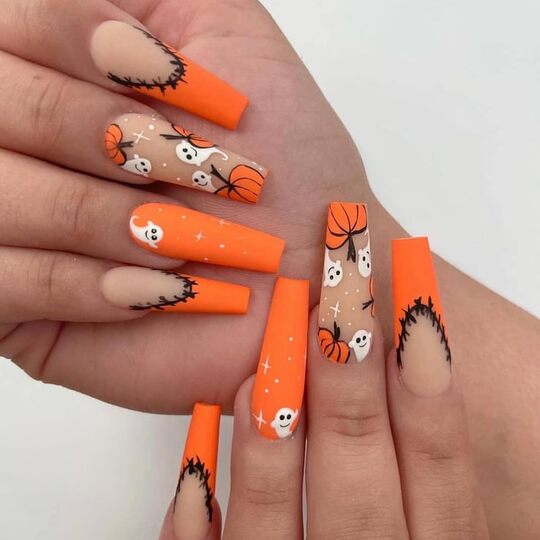 Pumpkin is a major part of Halloween, so why not use it to style your nails? Orange is one of the best colors to bring out your nails and stands for optimism and happiness. So, if you want a bright nail art design that screams Halloween, this is a good option. You can match the orange pumpkin design with other complementary colors like black, white, and beige.
This type of Halloween nail art designs goes well with short as well as long nails, but if you want an edge, it is best to keep the nails long. If you don't have long nails, you can always shop for fake press on long pumpkin-themed nails.
6. Green Goblin Eye Design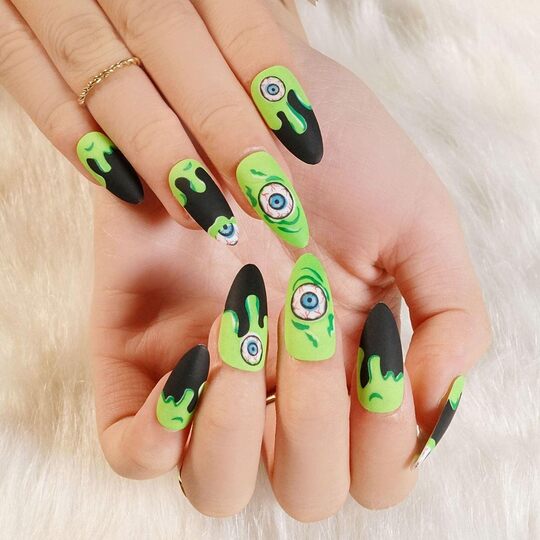 The most common Halloween colors are often dark, like black, red, purple, etc. However, if you want to try something different, green can be a good choice. Long green nails with cool goblin eyes offer a distinct Halloween look. You can make this design even better by adding black color with a bit of dark green layering. While getting this design manually seems difficult, you can easily try it with fake press on nails.
7. Black and Gold Claws Stiletto Nails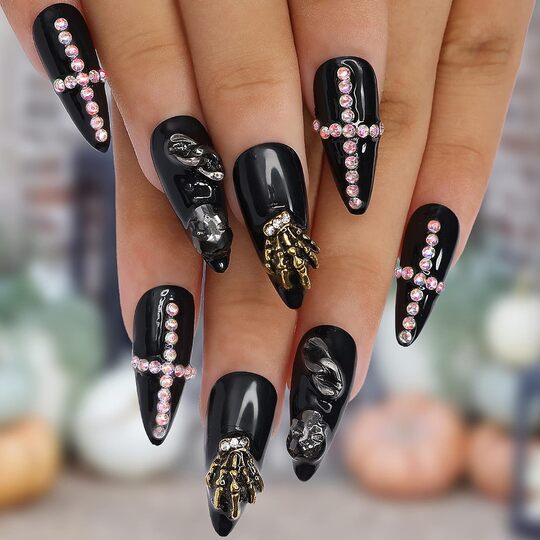 Black and white are the classic nail art colors for Halloween, but you can add your own unique touch to this look by using rhinestones. With glossy black color on stiletto nails, you can easily match every Halloween outfit.
This design is a good choice for people who plan to attend multiple parties. The rhinestones in the shape of claws and skulls will give you that edgy vibe to match any event. You can easily get these elegant yet spooky nails online.
8. Cute Spooky Ghost Design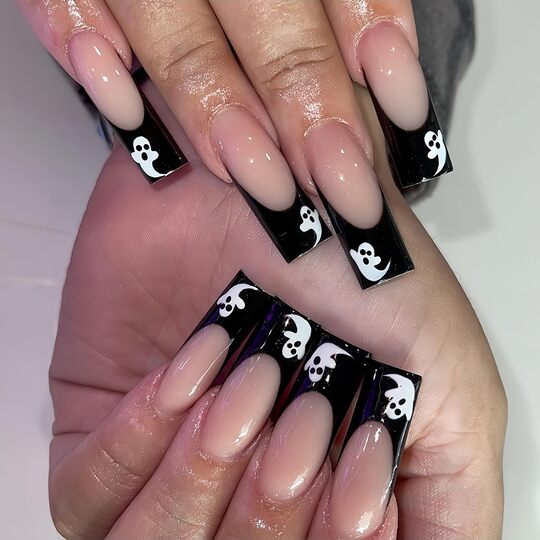 If you love the Casper movie and are trying for a similar look, try cute, spooky ghost Halloween nail art designs. The black tips with a cute white ghost design perfectly represent Halloween. You can opt for a single ghost on each nail or leave a few of them simply black and white. The French tip offers room for adding more designs or experimenting with different colors. You can shop for this Halloween nail art design on Amazon.
9. Black, Beige, and Gold with Rhinestones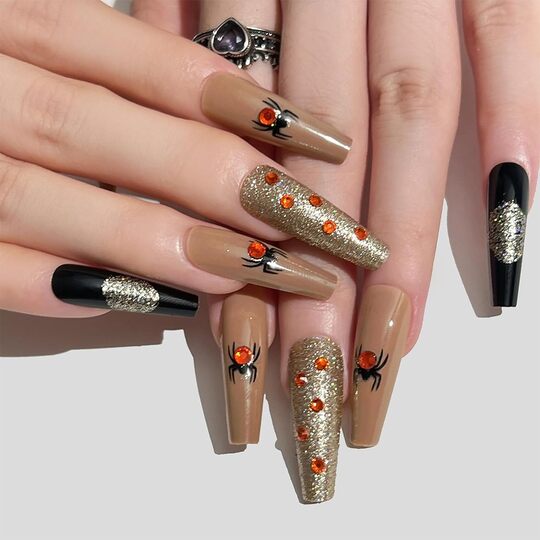 This nail art is specially designed for Halloween party cosplay. It is more elegant, feminine, and chic than other designs. The long coffin nails are great for Halloween nail art, and they offer more space to add different elements. The colors – black, beige, and golden complement each other to create a rich and sophisticated look. The spiders and the rhinestones are like the cherry on the cake, adding more depth to the design.
10. Yellow and Green Gothic Design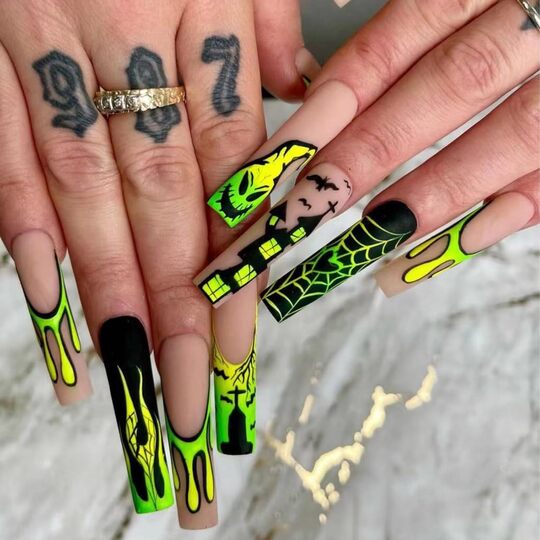 Halloween is incomplete without a monster-themed design, be it decorations or nail art. If you are looking for fun and creative Halloween nail art designs, yellow and green are the go-to colors. You can use these colors to paint different ghost and gothic elements on each nail. For example, you can add a spooky hat, spider web, bat, tombstone, etc. To make these colors pop, you can use a bit of black color as well as add shading to create effect.
11. Horror Bloody Nail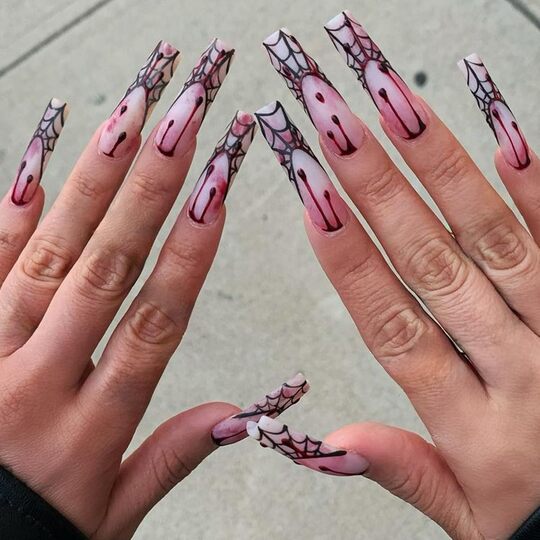 Halloween is incomplete without fake blood, so why not try it in your nail art? You can use the red and black color combination to create bloody Halloween nail designs. Use long coffin nails and design the tips with spider web using black color. Then, you can use red color to create an effect of blood dripping from the fingernails. This design is not too dark and can be used for a minimalistic look.
12. Black and Orange Coffin Nails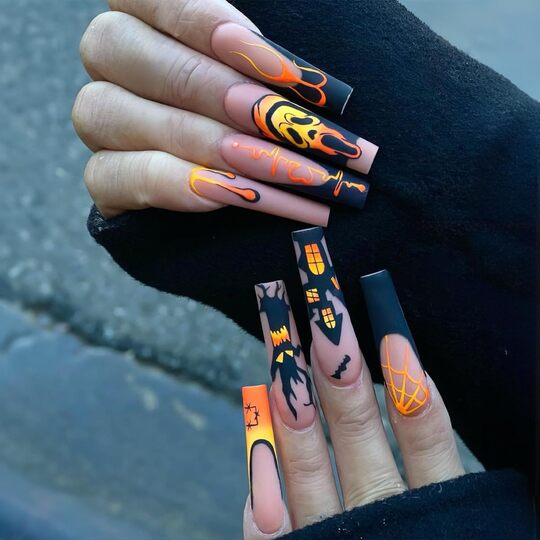 Black and orange are the most basic colors used in Halloween nail art designs. However, you can tailor the design by using other scary elements instead of a pumpkin. You can use these colors to paint spider webs, ghost faces, scary mansions, bats, and many other things. Instead of painting the entire nail, you can leave a bit of white space to highlight the design.
13. Ghost Face Blood Design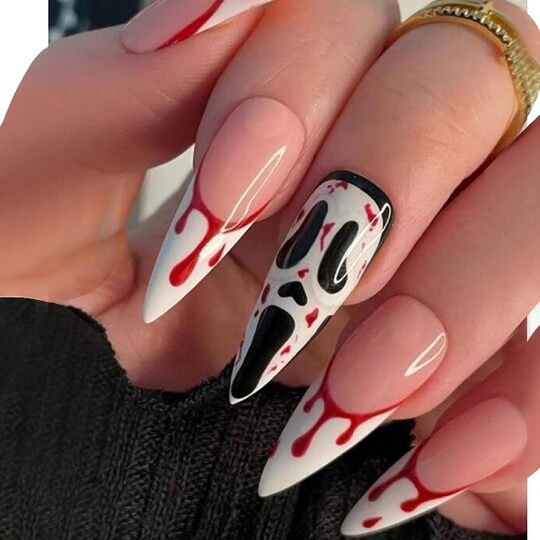 If you want bright nails for Halloween, try this design. Unlike other Halloween nail ideas, this one focuses on using bright colors like white and peach. You can paint all your nails peach with white tips and a dripping effect. To make this design stand out, paint the middle fingernail with a ghostly face with accents of white and black. It is a minimalistic design that is totally unique.
14. Alluring Red and Black Design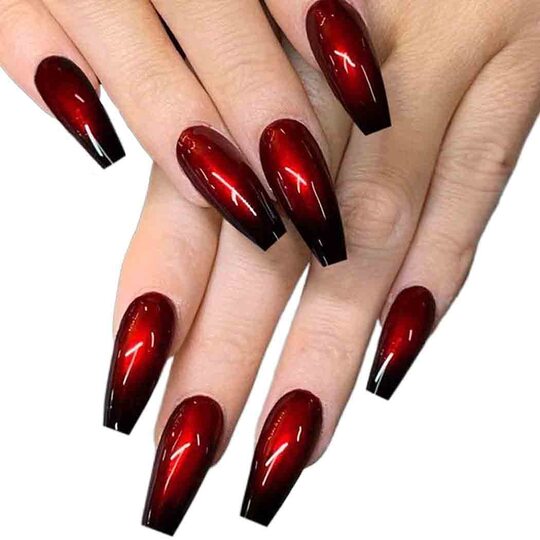 Halloween is the best time to express yourself, and if you want to show your fashionable and intriguing side, try this red and black alluring nail art design. You can paint your long and beautiful nails with glossy red and black colors with seamless blending to create a shiny and velvety effect. This design is a good pairing with a vampire or nurse costume.
15. Glitter Glossy Moon and Star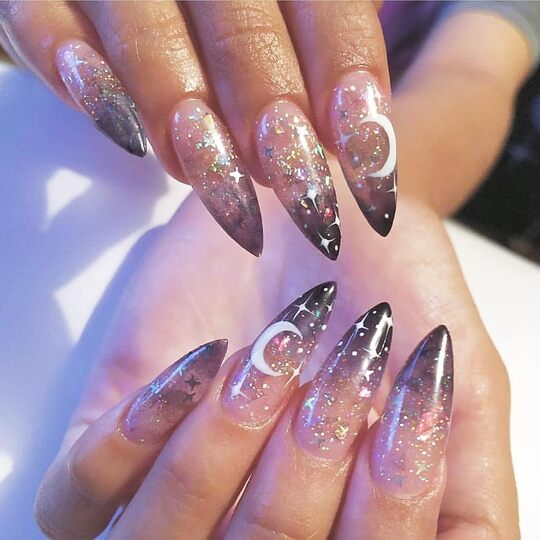 Pastel nails are not really common for Halloween, but this design surely matches the vibe. While it is not really spooky and scary, you can try it for a more subtle and elegant look. You can use glossy pink and purple nail paint and add moon and stars using bright white colors. The colors mix and match well to create a fairytale and mythical touch.
Conclusion
If you want to make the most out of this Halloween, remember to pair your outfit with the right nail art design. You can choose from any of these spooky yet creative Halloween nail art designs to match your costume. If you are on a budget or don't have much time, try fake press on nails with a Halloween theme.
You can apply these nails on your own and get the perfect salon-line finish. What's best is that you can experiment with various Halloween nail designs and go for a different look every week. So, make sure you don't miss out on nails this Halloween.
FAQs
What are Halloween nail colors?
The most common colors used for nails during Halloween are black, red, and orange.
How to make an easy Halloween nail design?
You can buy fake Halloween press-on nails for an easy nail design.
What are the 5 basic nail art designs?
The 5 most common nail art designs include round, square, oval, pointed, and squoval.
Is it too early for Halloween nails?
It is never too early for Halloween nails. If you love this festival, you can start flaunting your Halloween-themed nails from the beginning of October.
Explore More:-