Here is the new meaning of "Send Nudes" – Send Nude Nail Designs! In today's post, we've mentioned the 31 most popular nude nails to inspire your style!

Do you have an important event coming up, and you still haven't decided on your nail design?If yes, try nude nail designs!

Nude nails are just like the white T-shirt and blue jeans of manicures – they never go out of style and always look so elegant!

Bright and bold colors look great on nails, but sometimes we just want minimalist nail art! If you're also in the same mood and want a nail design that is not too bold and not so dull, nude nails would be the perfect option for you!

Nude nails have become a global sensation, captivating the hearts of fashion enthusiasts and trendsetters everywhere. The main reason behind its popularity is that this nail art is timeless and versatile means you can both dress up or dress it down as per your liking. For example, if you're going to a wedding, you can get nude nails with jewels and diamonds, and for formal events, you can go with a simple nude French manicure.

If you're searching for the perfect nail designs that effortlessly blend sophistication and versatility, you've come to the right place.

Today in this post, we've made a list of the top 31 best nude nail designs of the year. From a classic nude nail look to something more fun and glamorous nude color nails, there is a nude nail design for everyone!

So, let's dive right into the list.
31 Creative & Trendy Nude Nail Designs for the year
1. Classic Nude Nails
Let's start with the all-time favorite – classic nude nail designs!
Girls who always get confused about what to wear can try these simple yet attractive nude nails. Pick a nude shade similar to your skin color, as it will make your fingers appear slimmer and longer. This single-toned manicure will look so elegant and sophisticated.
2. 50 Shades of Nude
"I used to think there were only 7 colors. That was before I started shopping for nail polish."
Yes, if you look for a nude shade, you'll get so many options. So, don't confuse; apply all of them (or at least five) on each of your fingernails. Apart from the nude, you can also try varying hues of neutral pink or brown and create a gradient effect. Believe me; it will look awesome!
3. Nude Nails with Gold Leaf Designs
Add a bit of glam to your nude nails with some gold leaf. This nail design is appropriate for any special event like a wedding, anniversary, or birthday. You can achieve this DIY nail design by pressing golden foil flakes onto your nails, and your classy nude nails are ready!
4. Glossy Nude Nail Designs
If you want your nails to be the showstopper of any event, get these high-shine glossy nude nail designs!
These nails go with every outfit. You can get them done in just five minutes; still, they look so chic and classy. The secret to getting these nude nails is to apply a thick layer of super glossy top coat on your nail paint.
5. Matte Nude Nails
Don't like the glossy nail option? Try this one!
This is a matte nude manicure. Pick the nude shade complimenting your skin tone in matte. You can also add some textures and details if you want to add some drama and depth to your nude nails.
6. Abstract Nude Nail Art
Nail art means creativity and experimenting till you achieve your desired look. These nude nails with a funky twist are a great example of abstract nail art. Apply different bold colors with the help of nail art tools or a pen with a fine tip to create splash art.
7. Short Nude Nail Designs
Short nude nails never looked so good before! These timeless nude color nails are easy to maintain and are less expensive than other nude nail designs. This nail option is perfect for everyday use.
8. Nude Nails With Yellow Details
Here is the perfect Summer nail option for you!
Add a bit of bright yellow French manicure to your simple nude nails to make them more appropriate for spring and summer. This simple nail trick will instantly add some dimension and color to your nails.
9. Natural Nude Nail Designs
This time, ask your nail stylist to give you simple nude nails! This style of nails is trending now. From natural nude to sheer nude, there are so many options to choose from. These simple nude nail designs offer elegant and subtle nail looks which go with multiple outfits.
10. Nude Nails With a Twist
If natural nude nails look so boring, but you also don't like the bright details on the nails, here's something you can try! Here you can see these nails feature a bright red dot on each fingernail. Similarly, you can add an accent or a pop of color to create effortless yet stylish nail art.
11. Black and Nude Nail Designs
What do you think about these nails? They look absolutely hot and sexy, right?
With black color, you can create any black and nude nails from simple to intricate. You can go with a nude and black French manicure or add geometric lines or shapes to a nude base. Try these gorgeous nude and black nail designs!
12. Romantic Pink Nude Nails
"You're never fully dressed without a good manicure." — Essie Weingarten.
Are you going on a date? If yes, try these nude and white nail designs to impress your crush!
It is a subtle option with a fun and flirty vine. Here little white hearts motifs are painted on a nude pink base. Instead of white, you can also use other colors like pastels or neutrals. Give it a try to these cute nude nail designs!
13. Chanel Nude Nail Art
Another great nude nail design option is this Chanel logo-inspired nail art! As you can see here, tiny white Chanel logo patterns are added on nude nails with a glossy finish. You can also switch the logo with another designer brand of your choice.
14. Ombre Nude Nails
Summer is all about bright and bold colors, so add fun colors to your nude manicure and create a fresh look!
You can try soft gradients to vibrant patterns in multiple shades. Pastel shades, dusty blues, and pinks are some trendy nail colors in this year that go well with nudes. Paint all your nails in the same direction to create a uniform hue look. Look at the above picture of nude nails with design for reference.
15. Glamorous Nude Nails
Do you remember the Y2K trend? Yes, the futuristic, cyber-inspired, and glitter looks are a significant part of this trend. If you love this trend, these nude nails with lots and lots of jewelry and gems will give you nostalgic vibes. For a clean and perfect nail look, get it done by a professional.
16. Floral Nude Nail Art
"Nails are not about being noticed; they are about being remembered." — Tammy Taylor.
Unleash your inner creativity and create this beautiful and delicate nail art. From small flower designs to large leaf patterns in different colors, you can add any design to your basic nude nail designs.
17. Nude Camouflage Nail Art
Do you want to try something different? Here's a great idea for all the nail artists out there!
This is a combo of Camouflage and nude nails. You can use colors like khaki, pink, blue, or any shade of your liking. This design may look easier at first, but it is a trickier one.
18. Long Nude Nails
Nails; one thing you can get into shape without exercise!
So if you're a girl who likes long nails, you'll surely love this nail idea. From square and almond nude nails to stiletto and nude coffin nails, you can get your nails in any shape and length you feel comfortable with.
19. Golden Nude Nail Design
Even if you're a beginner and don't know many nail art tricks, you can achieve these nude nails pretty easily. All you need to do is to mix golden glitter with straight black lines on your nude base.
20. Nude French Manicure
"I believe in manicures." – Audrey Hepburn.
French manicure is a timeless and elegant nail design. You can try this sophisticated nude French manicure that looks great on women of all ages. You can wear these nude color nails almost anywhere, from evening parties to day celebrations.
21. Watercolor Art on Nude Nails
Add color to your nude nails in an artistic way.
Look at the above nail idea for inspiration. Here various colors are randomly added to a nude base. Here you also don't need any tools or techniques to create this. Just use your hands and freely draw these dots or small lines as you like. Don't worry about not looking perfect; the messier it becomes, the better it will look!
22. DIY Nude Nail Designs
This nail idea will be a great option for ladies who like to make their own nail art! Daisies are a perfect representation of the summer. You can draw the daisies or just get the nail stickers and apply them to your nude nails.
23. Nude Nails with Rose Gold Details
Elegant yet glamorous, these nude nails with rose gold designs look exactly like this!
These types of nude nail designs are perfect for transitioning from day to night without doing much! You can use metallic tape or polish and directly apply it to your nails and create a wonderful design.
24. Easy Nude Nail Designs
"Nails are the period at the end of the sentence. They complete the look." — Prabal Gurung.
Let me tell you how to make your nails look pretty without even spending a lot of time on them – add graphic lines! With polish, you can easily create straight lines (either vertical or horizontal).
25. Mondrian-Inspired Nude Nails
Do you like Mondrian or modern abstract art? If yes, include it in the tips of your nails. From graphic squares and rectangles to thin black lines, you have to draw the pattern carefully. Save the above picture and show it to your nail artist at your next nail appointment.
26. White Polka Dot Art
Don't know much about nail art and also don't have enough time to go to a nail salon? No worries, here is a simple but attractive nail design for you!
This one has white polka dots on a nude base. This is quite easy to create, and your nails will be ready in just a few minutes. First, apply a subtle nude color on your nails; then, make a single dot on each nail with the help of a nail art tool.
27. Invisible French Tips
Are you searching for nude nail designs for formal settings? Look at these cool white and nude nails!
These nails have a jelly-pink base with sheer, almost invisible French tips nail. The tip of the nails is also outlined, which gives them a stunning but subtle look.
28. Soft Pastel Nude Nail Designs
Pastel is another top trend of the year, so include pastel colors like pink, green, and orange in your nude nails! The slight touches of pastel swirls can elevate your basic nails to something more alluring and eye-catching!
29. Beautiful Baby Blue & Nude Nails
"May your Monday be short, your coffee be strong, and your nails get compliments."
Try this unique neutral, and vibrant color combo for a fresh look. Instead of applying two colors in half, try various patterns like crescents and circles. This nail trick helps to elongate your hands and looks great with every outfit.
30. Doodling on Nude Nails
Look how cute and creative are these abstract nude nails. You can easily replicate these nails with the help of a toothpick or a small pointy brush dipped in white polish.
31. Lovely Leave Pattern
Your nails say everything about you!
If you feel nude nails seem dull and boring to you, try adding more colors and fun patterns! Take inspiration from the above nude nail idea and get on the artistic side of the manicure.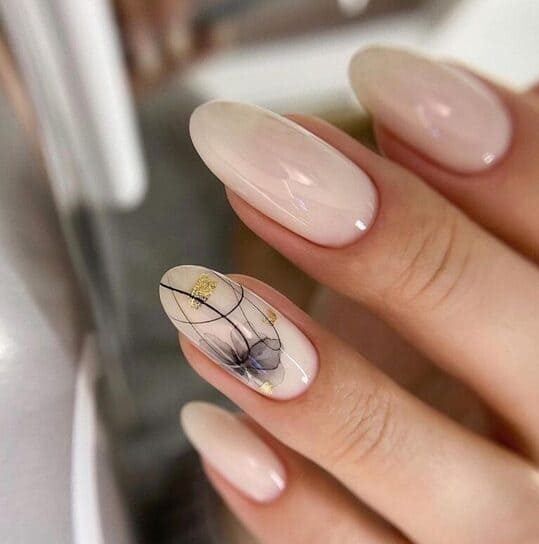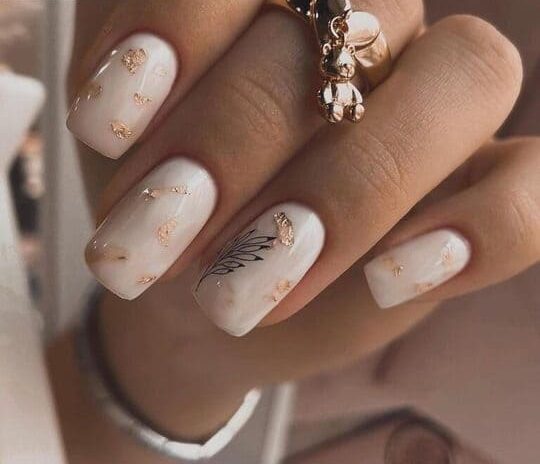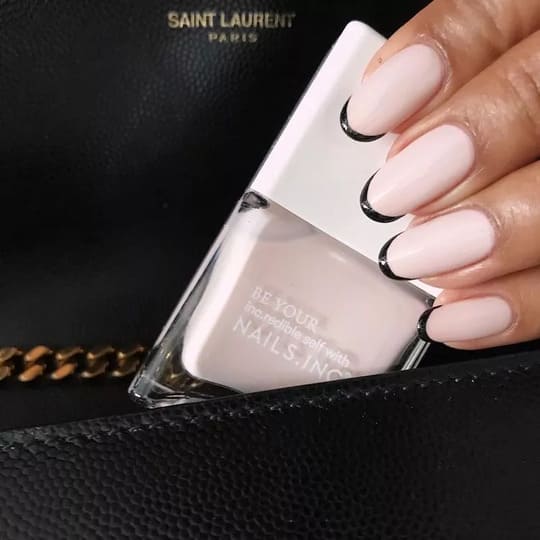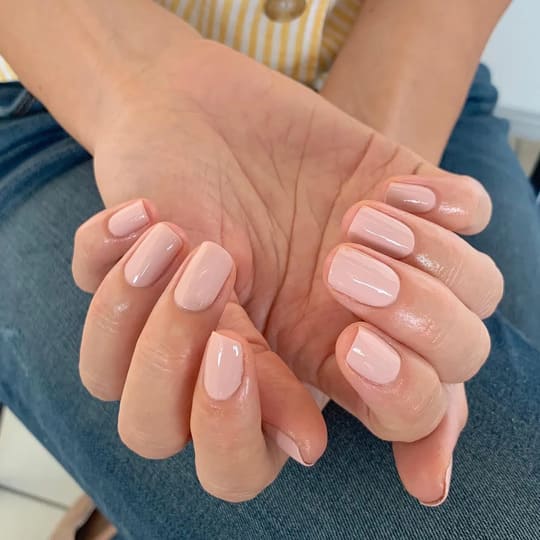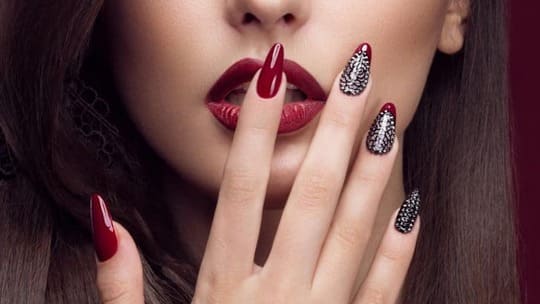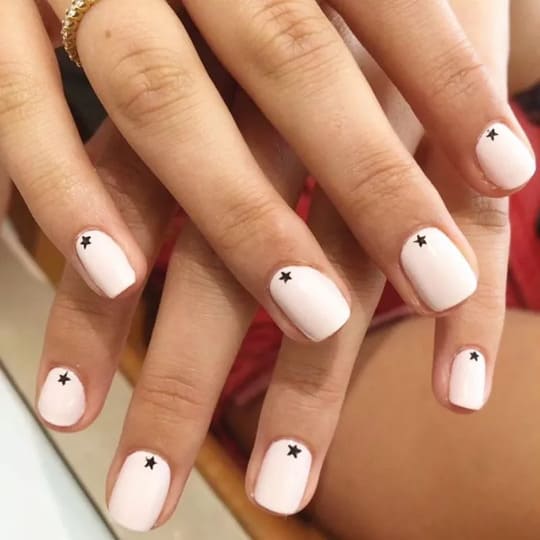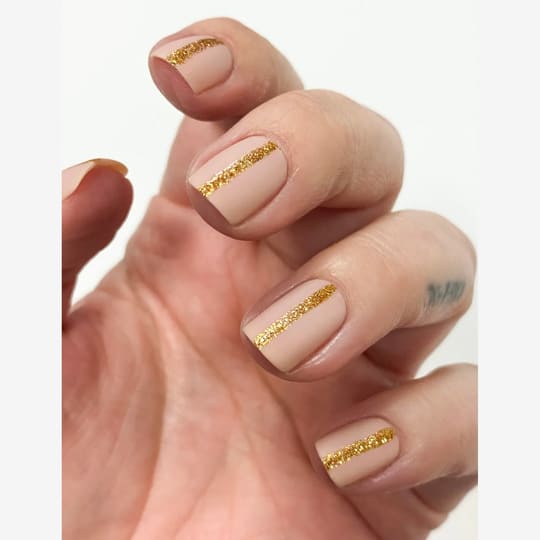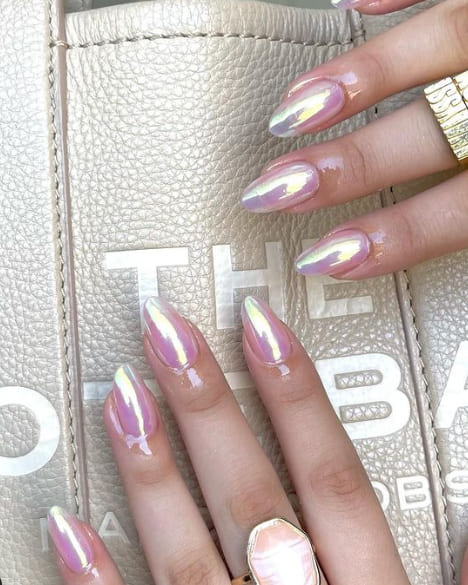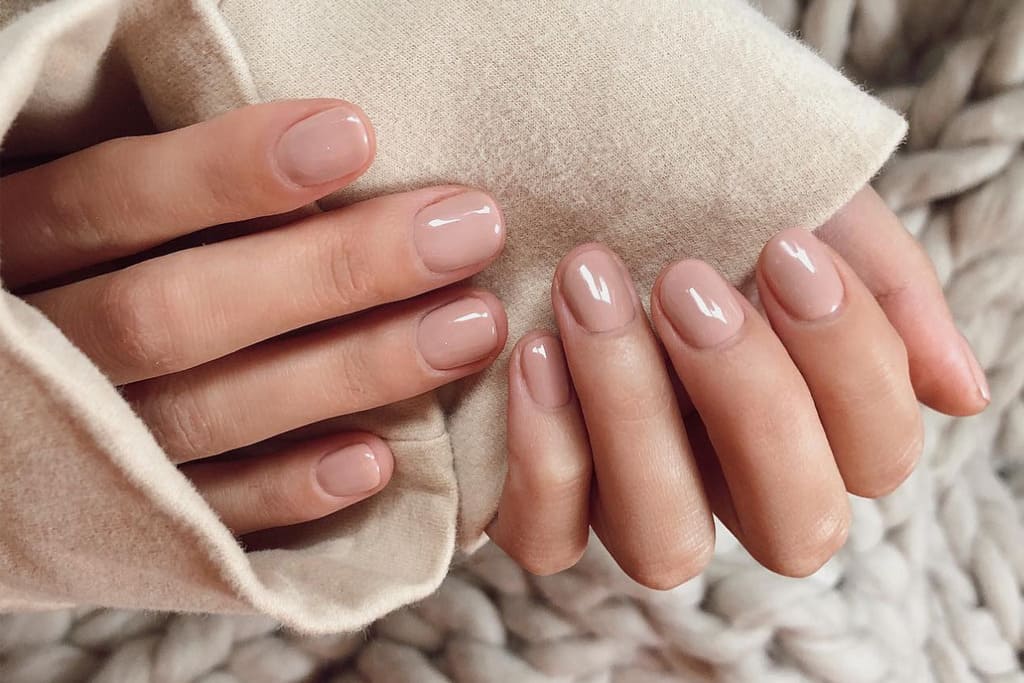 Conclusion
So these are the best nude nail designs to try this year. Whether you opt for simple nude nails or nude nails with glitter, these nude nail designs will definitely help you to achieve a classy and chic appearance. You can also add various colors, patterns, and stones or stickers to your nude nails to add a glam touch!
So, what are you waiting for?
Book your nail appointment now; because great nails don't happen by chance, they happen by appointment!
More from The Dezayno