You just can't have too many socks & underwear!

No matter how much underwear you buy, whenever you need them, you'll not find even one! If this also happens to you, it's time to buy some new undies! We're not talking about getting the ones made from toxic materials which are harmful to your skin. These harmful chemicals and pesticides can easily irritate the private part's skin and cause breakouts and other skin problems.

So, what to do?

This time instead of buying regular panties, buy organic cotton underwear!

Lacy thongs and seamless briefs look great, but when it comes to comfort, they're absolutely not. Materials like satin and silky blends feel luxurious, but they're not good for sensitive skin. This is where organic and sustainable undies made from soft fabrics like cotton come in handy! They will not only provide long-lasting comfort but also boost your confidence with their cute looks.

Summer is already here, which means more sweating and irritation on the skin. These best cotton underwear for women are made with soft, breathable, and stretchable materials. These panties will fit you perfectly and also keeps you dry for long hours.

Are you also looking for some comfy, soft panties for everyday wear? If yes, keep reading!

Today in this blog, we've made a list of some of the best organic cotton underwear for women. All these underwear are made from organic and eco-friendly materials. From undies with lace details to simple basics for everyday wear, we've covered the best organic cotton underwear for women from various organic brands in a decent budget. We've also provided a direct link to buy them. So, pick your favorite one and order right away!
5 Best Cotton Underwear For Women in this year
Below is the list of top-rated and eco-friendly underwear for women. These panties are comfy to wear and look really cute. So whether you have sensitive skin or are looking for postpartum undies, you'll surely find one on the list.
Let's take a look.
1. OPIBOO Women's Cotton Underwear
Do you like to wear high-waisted panties? Try OPIBOO's brand as it has the best organic cotton panties! They're not only high-waisted but also have lace detailing.
Made from natural materials like 95% cotton and 5% spandex, OPIBOO has underwear with lace-trimmed edges. As these panties are high-waisted, they also provide full back coverage and a medium level of tummy compression.
They have dual-layered waistbands, which makes them durable. Fabrics are soft, stretchable, and breathable. These wide elastic bands will stay in place while providing a comfortable fit. You can order one set where you'll get five pairs of underwear.
Pros
High-waisted
Full back coverage
Medium tummy compression.
Cons
2. ASIMOON Women's Underwear
Looking for panties for everyday wear? Get the ASIMOON's women's organic cotton underwear! These panties are made from organic cotton, and 5% spandex is also added to give some extra stretch.
Comes with a double-layered crotch and flat seam stitching, these undies will give you a comfy and clean look. The fabric is sustainable and breathable. It will absorb all the sweat and will keep you fresh and dry throughout the day. There is no toxic chemical used in the manufacturing process; all the undies are naturally dyed. So your private parts will remain toxin-free. You can comfortably wear them for both post-pregnancy recovery and everyday wear.
You can wear ASIMOON's organic cotton briefs to the gym or workout sessions. This underwear will not ride up or roll down as it features a double-layered elastic waistband that will securely stay in place. Not only this, these undies give your moderate tummy control and also smoothen down your muffin top, which makes them perfect for yoga pants.
Pros
Double-layered crotch.
Soft and breathable.
Double-layered wide elastic waistband.
Cons
Might look high-waisted on petite frames.
3. Hesta Organic Cotton Period Panties
Females with sensitive skin know the struggle of finding the right underwear. Don't worry, here's the perfect panty for you!
Hesta Organic Cotton Period Panties are made of 95% Certified organic cotton and 5% spandex. They're naturally dyed, so they're best for sensitive skin. These undies come with a protective waterproof layer that will prevent leaks. So, they're comfortable to wear and avoid any sort of leakage.
They have a good lining and easily stretches from the gusset to the waistline, which gives full coverage. The panty material is breathable and feels soft on the skin. So it will keep you dry the entire day. The best thing about this undergarment is that you can wear this with pads, panty liners, and tampons. This is the best underwear for women!
Pros
Sensitive skin-friendly.
Has a Highly-absorbent layer
Soft and stretchable
Cons
4. Hanky Panky Supima Cotton French Briefs
Wear fabulous underwear even if you're the only person who is going to see it!
If you also think the same and are searching for underwear that is comfortable to wear but also looks stylish, we've got you! Look at this cute panty by Hanky Panky!
These 100 percent cotton underwear come with a cool floral lace waistband design. This panty is extremely soft, stretchable, and lightweight. Currently available in four lovely colors, you can buy directly from the link we provided. This is one of the best sellers of organic cotton underwear on Amazon.
It is also quite stretchable as some percentage of spandex is added to the material. It will stay in place without riding up or rolling down, which causes a lot of discomfort. It has a high cut which gives you a good amount of coverage and a secure fit.
Pros
Available in multiple colors
Floral design lace waistband
Soft and lightweight

Cons
5. Felina Organic Cotton Bikini Underwear
After Postpartum, sometimes it is so hard to find the right undergarments, but not anymore! Felina has introduced its Organic Cotton Bikini Underwear. They're 100% organic cotton underwear, which are naturally dyed with plant-based dyes to create fun colors.
These panties feature a flat elastic waistband which gives you a secure fit and doesn't peek through your bottom wear. The organic cotton is mixed with spandex to achieve a breathable fabric with good stretchability. They have excellent moisture-control qualities and are tag-free. Just buy one, and you'll love how Felina's organic cotton underwear fits you and feel comfy on your skin.
These are one of the best organic cotton underwear for women available on Amazon.
Pros
Soft and Tag-free
Stretchable and Lightweight.
Colored with plant-based dyes.
Cons
Might shrink after being washed.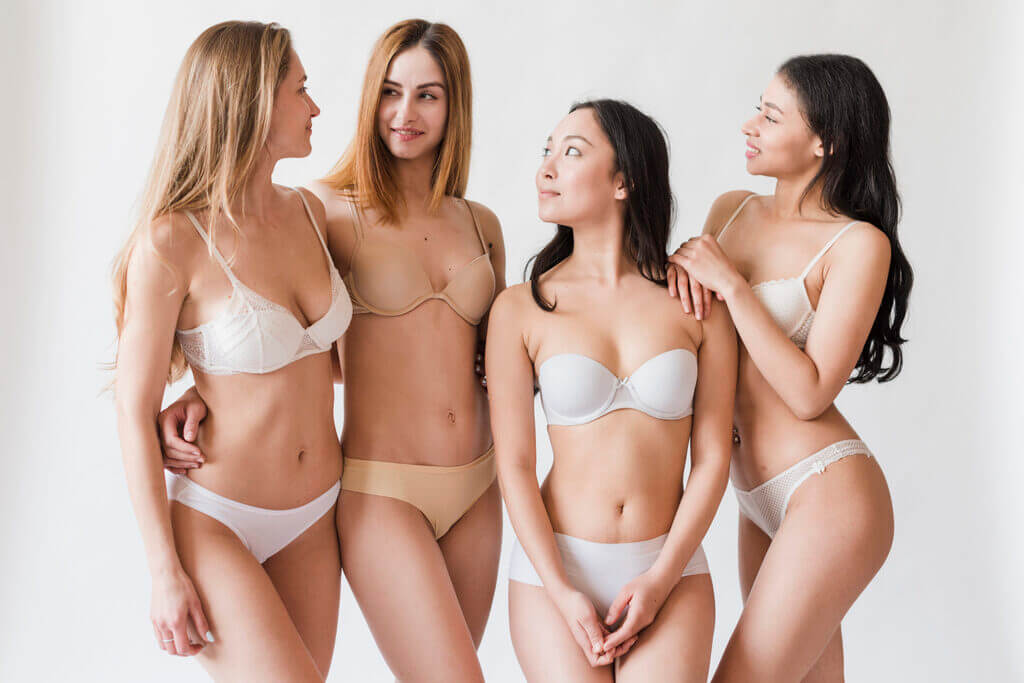 Conclusion
So these are the top five organic cotton underwear that every woman should own.
I hope this guide on the best organic cotton underwear has helped you to select comfy and cute underwear at an affordable price range. If you like this post on the best organic cotton underwear for women, don't forget to share it with your friends and family members looking for organic underwear.
Explore further: