Mini Skirts are Forever! This is so true and also a solid fact that mini skirts were in style and are in style and will forever be in style! A mini skirt is a staple clothing piece in the fashion industry. Everyone is obsessed over mini skirts, from Hollywood celebrities to college girls. You may have already seen many hot and sexy girls in mini skirts.

So, what's the reason behind their popularity?

The first reason is that mini skirts are so versatile. This means you can wear them with anything and in any season. You can dress them up or dress them down according to the event and place.

So, if you think that mini skirts are only for hot seasons like Summer and spring, that's not true at all! In this year girls are pulling out their mini skirts from the closet to wear at any time of the year!

Another reason is that nowadays, many Netflix series, TV shows, and movies like Europhia have featured girls in short skirts. This actually set the trend this year, and now all the girls and women are following this mega trend in the fashion world.

Mini skirts are available in numerous designs, prints, patterns, and sizes. You can always select the ones which are perfect for your style and personality. Mini skirts also come in a variety of fabrics, including cotton, denim, and satin.

Do you have a mini skirt lying around in your closet for a long time, and you don't know how to style it? No worries, we're here to help you!

Today in this guide, we've gathered some of the best and most creative ways to wear mini skirts. We've gathered some trendy and stylish outfit ideas with pictures of sexy girls in mini skirts.

So, don't skip anything and keep reading till the end. Let's dive into the list of best mini skirt outfit ideas of the year.
25+ Sexy Girls in Mini Skirts Oufits
Mini skirts are back in trend, and everyone is trying to follow this trend. A mini skirt is a comfy clothing piece that can be worn with many different clothing pieces and accessories. They're easy to style, and your overall outfit appearance will still look stunning.
Below is a list of some creative ideas on how to wear mini skirts in different ways and styles. So whether you're a college-going girl or an office worker, you can easily recreate these outfit looks.
So, let's see the top 25+ outfit looks of sexy girls in mini skirts and how you can carry mini skirts in a classy and stylish way:
Outfit #1: Oversized T-shirt + Plaid Mini Skirt
Do you wonder how hot chicks in mini skirts carry this style so effortlessly?
Here's a trick to get this sexy look, first, grab any oversized T-shirt and pair it with a plaid mini skirt. The oversized clothes will well balance the sexiness of the mini skirts. Pair this outfit with white sneakers and minimal jewelry for a cool and calm vibe. Do a half-do hairstyle, and you're ready to go!
Outfit #2. White Button-down Shirt + Black Mini Skirt
Love the minimalist aesthetics? We've got you! Find a white button-down shirt from your closet (or just steal from your boyfriend, husband, brother, or father) and pair it with a white crop top and a black mini skirt.
Wear a black cap, black baguette bag, and white sneakers for accessories. This will give an amazing visual black-and-white effect, showing your true personality. This is also great for girls who don't want to show much skin but still want to look stylish.
Outfit #3. Sweater Vest + Tennis Skirt
Tap into an innocent and simple schoolgirl aesthetic with only two things: a sweater vest and a tennis skirt. Finally, complete this preppy look with a baguette bag and chunky platform shoes with white socks.
Outfit #4. Silk Shirt + High-waisted Linen Skirt
Steal this look from the Hollywood star Priyanka Chopra for this summer! Here she has styled this outfit with elegance and in a stunning way. She paired a high-waisted belted linen skirt with a sunburst-hued silk shirt. For accessories, she chose strappy sandals, gold bangles, and a straw bag. You can take inspiration from her for your summer outfit looks.
Outfit #5. Retro Graphic T-Shirt + Plaid Mini Skirt
Plaid mini skirts were in trend, are in trend, and will be in trend! This is so true!
For a classic retro look, you can take cues from Rachel Green from Friends. Grab any plaid mini skirt and pair it with a hipster-looking, oversized graphic t-shirt. This gives a fun and casual look.
Outfit #6. Halter top + Mini Skirt
Can't decide what to wear to your next date? Look extra cute on your next date with this outfit look. Find a halter top and mini skirt. Pair this look with sneakers for the day and switch it up with some boots for the night. You can also pair this look with a simple cardigan or a denim jacket.
Outfit #7. Striped Shirt + Black Mini Skirt
Looking for somne classic formal work outfits which go with a mini skirt? We have a great suggestion. Pair your black mini skirt with an oversize striped shirt in a eutral color. This will give you both a formal and hot look at the same time.
Outfit #8. White T-shirt + Blazer + Mini Skirt
Another way to elevate your everyday outfit is to pair them with a solid blazer! And this trick also goes with mini skirts. You may have seen many girls in mini skirts who follow this.
Whether you're going for a formal event or any special occasion, you can wear a t-shirt with a mini skirt and an oversized blazer. For shoes, go with strappy heels.
Outfit #9. Denim Shirt + Tribal Mini Skirt
Rock this type of tribal printed skirt with a solid denim shirt. These types of high-waisted mini skirts look stunning with a tucked chambray shirt in a skirt. Braid your hair in a loose ponytail and wear some glasses and flat strappy shoes for a classy yet flirty overall look.
Outfit #10. Cardigan + Printed Mini Skirt
Don't know what to do with a printed skirt? Pair it with a cardigan! Yes, this is a new way of achieving a low-key sexy look with so much less effort! Make sure to go with a fitted cardigan instead of a loose one.
Outfit #11. Oversized Button-down Shirt + Mini Skirt
Here is another lovely oversized clothing styling tip. Pick an oversized button-down shirt and pair it with a mini skirt with a chequered pattern. Don't forget to wear combat boots for a cool, edgy vibe.
Outfit #12. Boxy Satin Shirt + Basic Mini Skirt
No words can explain this look! Look how elegant and sexy it looks!
Take inspiration from here if you have a boxy satin shirt in your wardrobe and have no idea how to style it. Look how many beautiful women in short skirts styled these satin shirts. You can simply turn any basic-looking outfit into a classy and sophisticated outfit look.
Outfit #13. White Top + Beige Mini Skirt
Don't think you have to wear something fancy to look stylish and trendy. Simple and basic items like a white top and a beige mini skirt can be used for an edgy and stylish look. You can wear these types of miniskirts with a bow to any formal or office environment.
Outfit #14. Chunky Sweater + Mini Skirt
There are some days when we don't feel like dressing up! For those days, here is an outfit idea on sexy girls in mini skirts! Take any colorful chunky sweater and wear it over any fitted mini skirt!
To make the outfit look more put together, accessorize with some beaded necklaces, a baguette bag, and chunky white sneakers with white socks.
Outfit #15. White Ruffle Top + Black Miniskirt
Be the famous Parisian girl who is famous worldwide! We're not talking about the specific girl but referring to the popular grinch girl style. Take out your classic black mini skirt and wear it with a ruffle top.
The black and white color combo makes everything look great and graceful. For accessories, use a gold necklace and earrings to get into the Parisian Chic vibes.
Outfit #16. Tube top + Cropped Cardigan + Mini Skirt
Be the main character in your story!
This outfit really gives off the same energy. To achieve this pretty outfit idea, you have to pair your mini skirt with a matching cropped cardigan and top. When you step out of your home wearing this outfit, other girls will wonder who she is with such a sexy and hot dressing style!
Outfit #17. Oversized black T-shirt + Denim Mini Skirt
Casual but cute!
This outfit is for all the girls who want to look stylish but also want to be comfortable. For that, pair any oversized black t-shirt with a mini denim skirt. Black and denim always work great together. And to accessorize, you can wear a black shoulder bag and black flat sandals.
Outfit #18. Turtleneck + Mini Skirt
Fall is here! This means it's time to take out your fall essentials like turtlenecks! You can wear solid-colored turtle neck tops, sweaters, and mini skirts to get a cool but edgy outfit look.
Outfit #19. Silk Blouse + Ruffle Mini Skirt
Here is another outfit idea, which is actually kind of a reverse of Outfit #15. Instead of going with a ruffle top, go with a ruffle skirt and a silk blouse. Ruffle skirts look great on round and pear body shapes as they balance out the proportions.
So for your next dinner appointment, wear a sand-colored ruffle mini skirt with a same-toned silk blouse. Put your hair up in a bun or ponytail, grab a fancy purse and your sparkly sandals, and you're ready to go!
Outfit #20. White Sweatshirt + White Mini Skirt
Want to look sexy, sleek, and seductive? Get your monochromatic uniform!
Rihanna is like those girls in miniskirts that can make any outfit look cute and sexy. Here she has paired a simple oversized sweater with an itty bitty mini skirt. This look will give a uniform look, making your legs even longer and sexier. Finish off the look with some pumps or high heels in the same outfit color.
Outfit #21. Off Shoulder Top + Frayed hem Denim Miniskirt
Spending hours and hours to find the right outfit for the date? Not anymore! Here is the perfect first date outfit for you!
The best thing about this entire outfit is that you can put together this look with the pieces you already have in your closet. To create this look, all you need is a top in fabrics like satin with dramatic shelves or off-shoulder strips; things will work.
For the bottom, wear tight-fitted denim to balance out the overall look. You can go with a frayed hem denim skirt to give some definition.
Outfit #22. Baby Tee + Mini Skirt
Love the cohesive look vibes? Here's the perfect outfit for you! Match the color of your top with your mini skirt and see a major difference. Also, swap the usual t-shirt with a cropped baby tee. This will give that flirt, romantic, cute vibes without putting much effort.
Outfit #23. One Shoulder Sweater + Black Leather Mini Skirt
Show your shoulders with confidence with this classy and chic outfit look. Take out your favorite leather skirt. Pair it with a warm oversized one-shoulder sweater and white sneakers. Try a mini skirt with a zip to create an edginess to your outfit. Give it a try!
Outfit #24. Oversized Blazer + Tennis Skirt
Do you know what the current trend is in fashion? The new trend is to wear athleisure and sports clothes with other stylish clothes to create something unique. You may already have seen this style on some hot girls in mini skirts.
You can also rock this style by wearing a white tennis skirt, a sports bra, and an oversized blazer to keep the look comfy and cozy.
Outfit #25. White V-neck top + Light-washed Denim Skirt
Cute & Casual!
This is a classic outlet look when you're in a dilemma about what to wear! Grab any v-neck white tank top and pair it with a light-washed denim skirt and white sneakers.
This will give you an elevated look and make you look fresh and alive! Don't forget to add some gold jewelry.
Outfit #26. Turtle Neck + Oversized Blazer + Mini Skirt
You're wrong if you think you will never wear a denim mini skirt to work! Yes, you can, but you've to keep a few things in mind.
Take a look at the above image and see this girl in a mini skirt has turned a three-piece outfit into a classy, office-appropriate outfit.
First, she takes a well-fitted turtleneck in a dark solid colour and pairs it with a denim skirt. Later she adds an oversized suede blazer to give some structure to the look.
Keep things minimal as possible for accessories and wear tights or black stockings to make it more formal.
Outfit #27. White shirt + Mini Skirt with Color Blocks
Make the boring outfit fun with a colorful mini skirt. Look how this girl carries this outfit seamlessly and looks absolutely confident and stylish. Perfect example of sexy girls in mini skirts.
To achieve this look, wear a white top or shirt, whatever you prefer, and pair it with a mini skirt with a fun color block print. This will make your outfit look unique and eye-catching.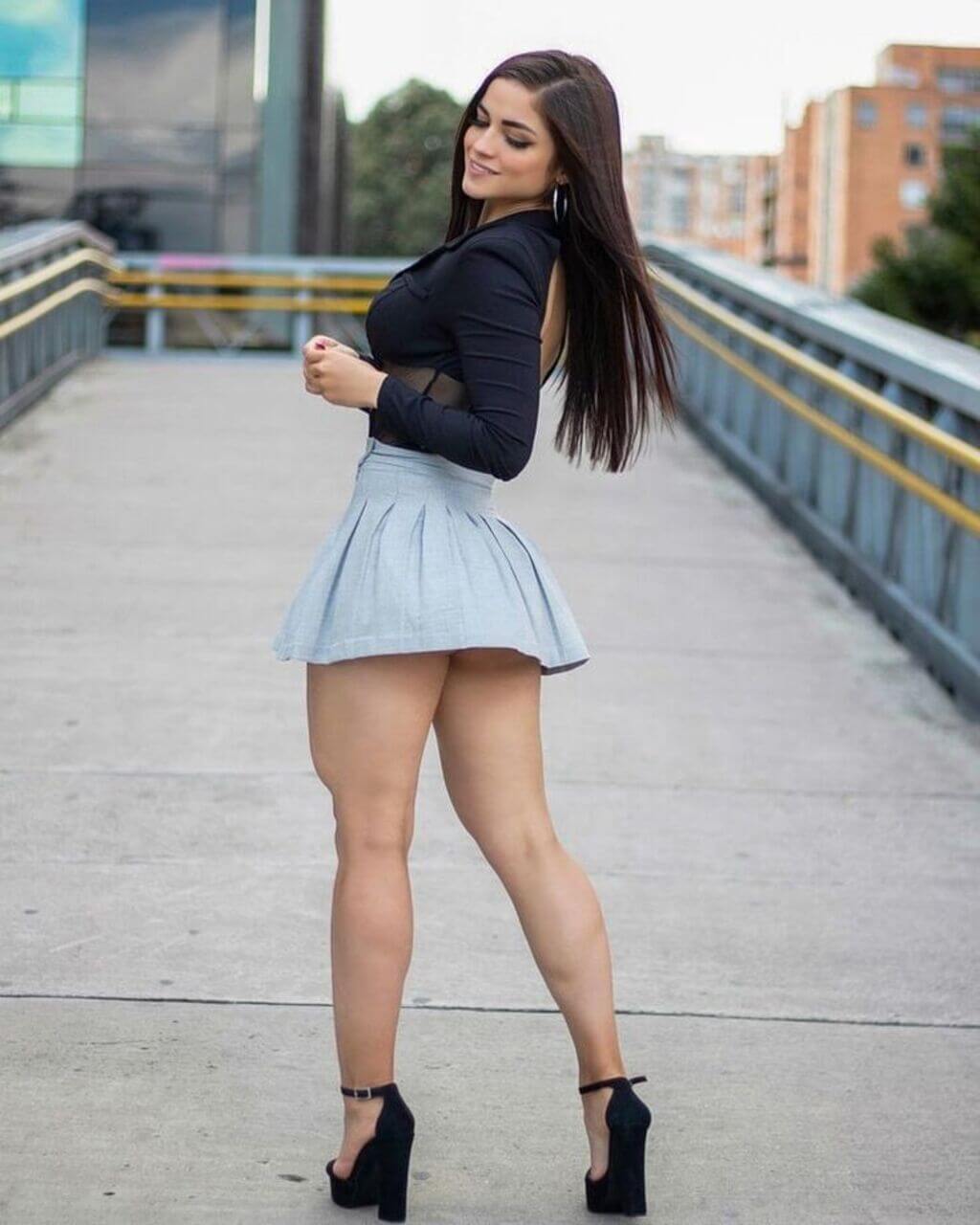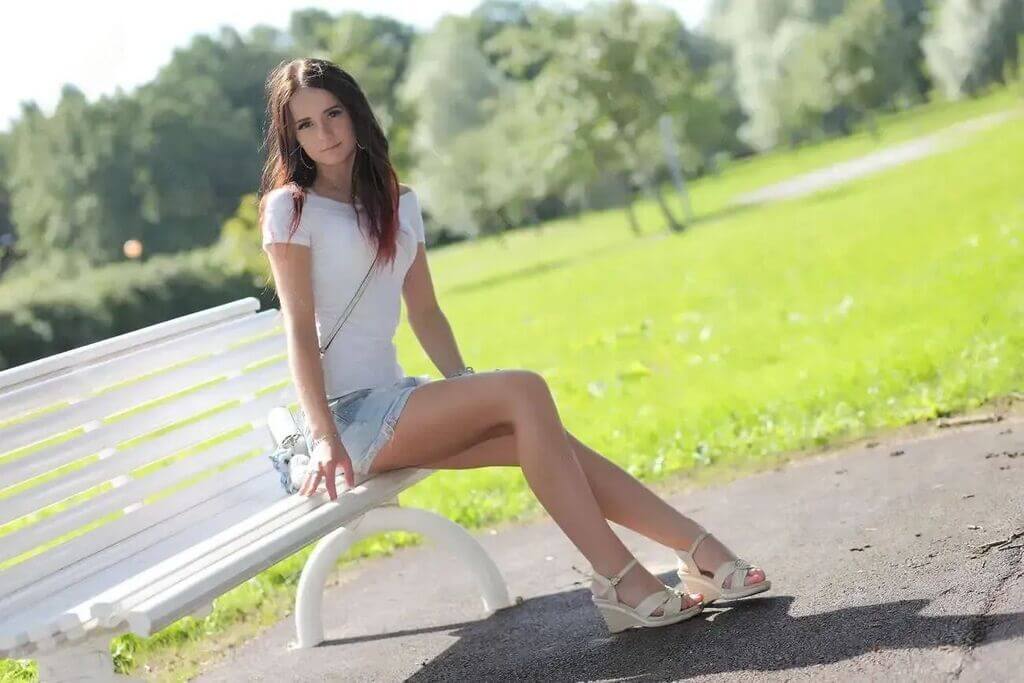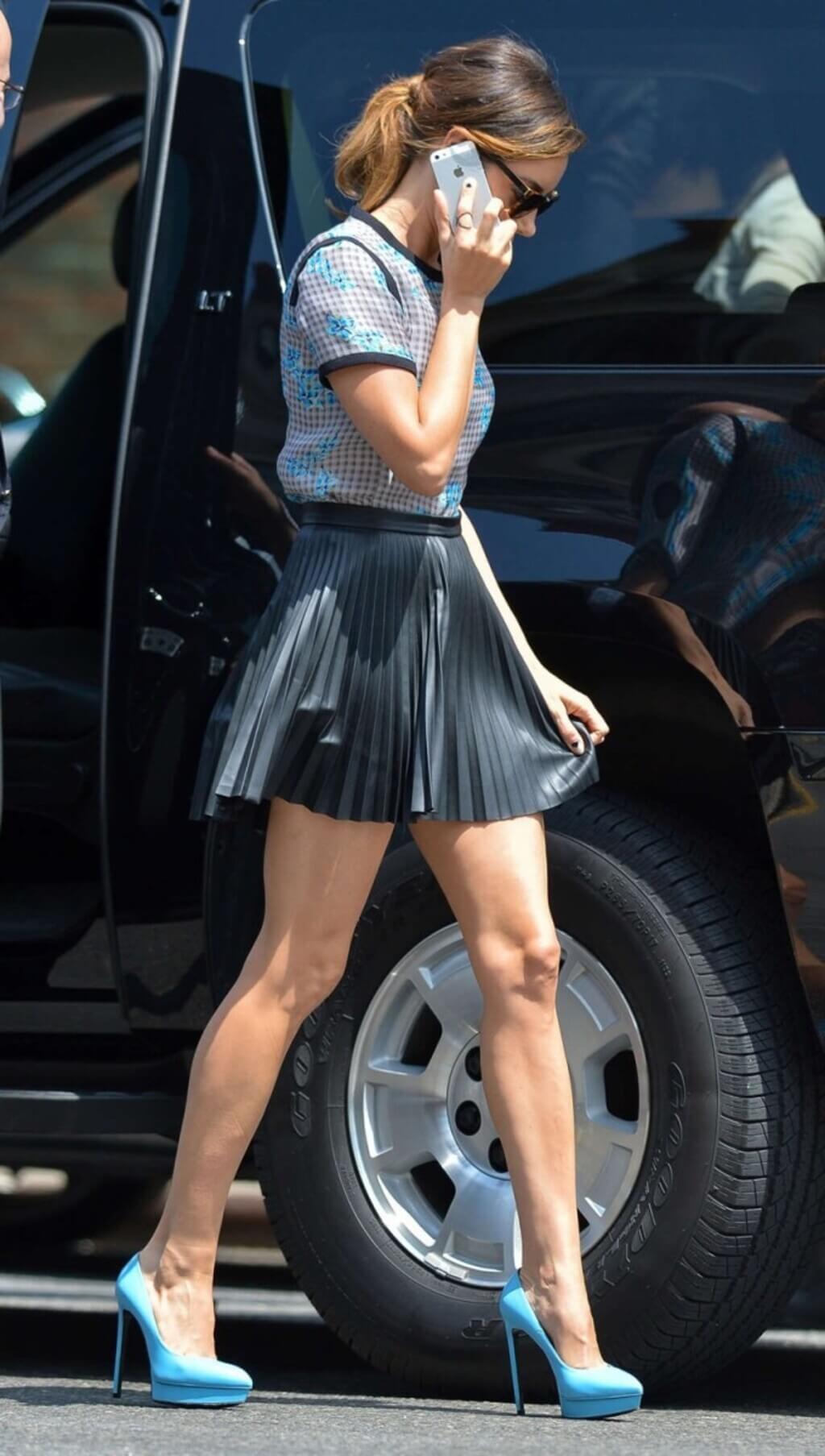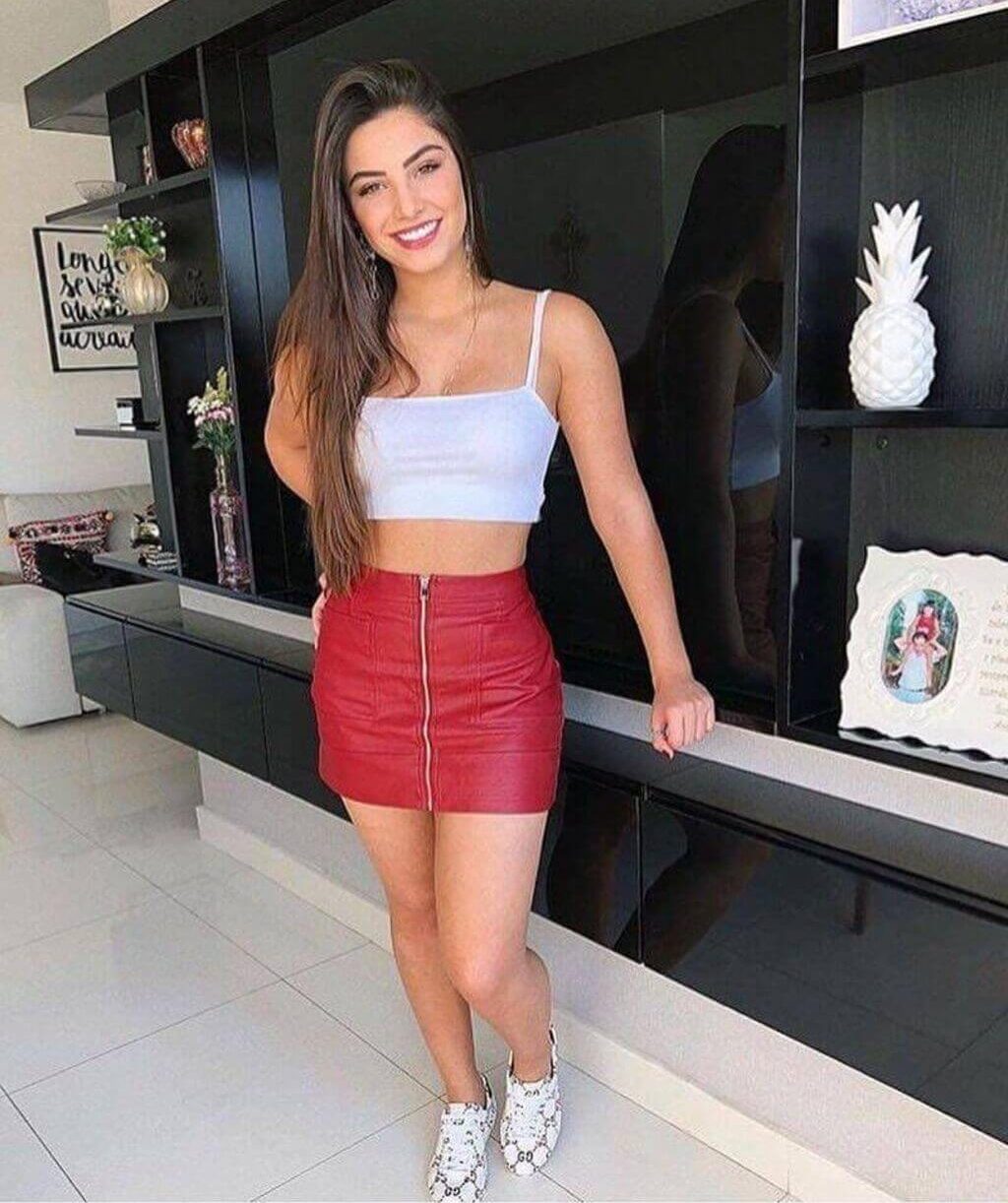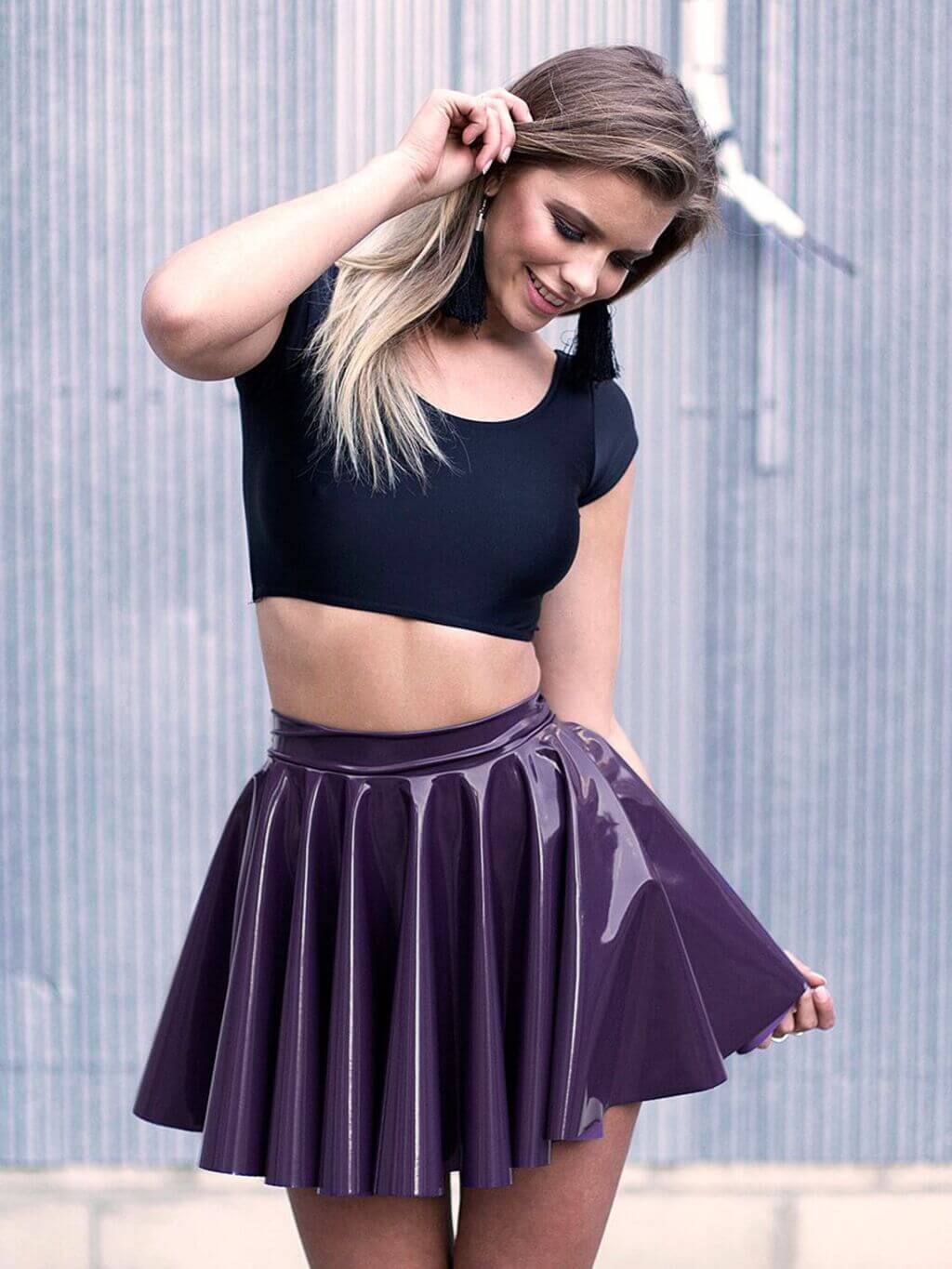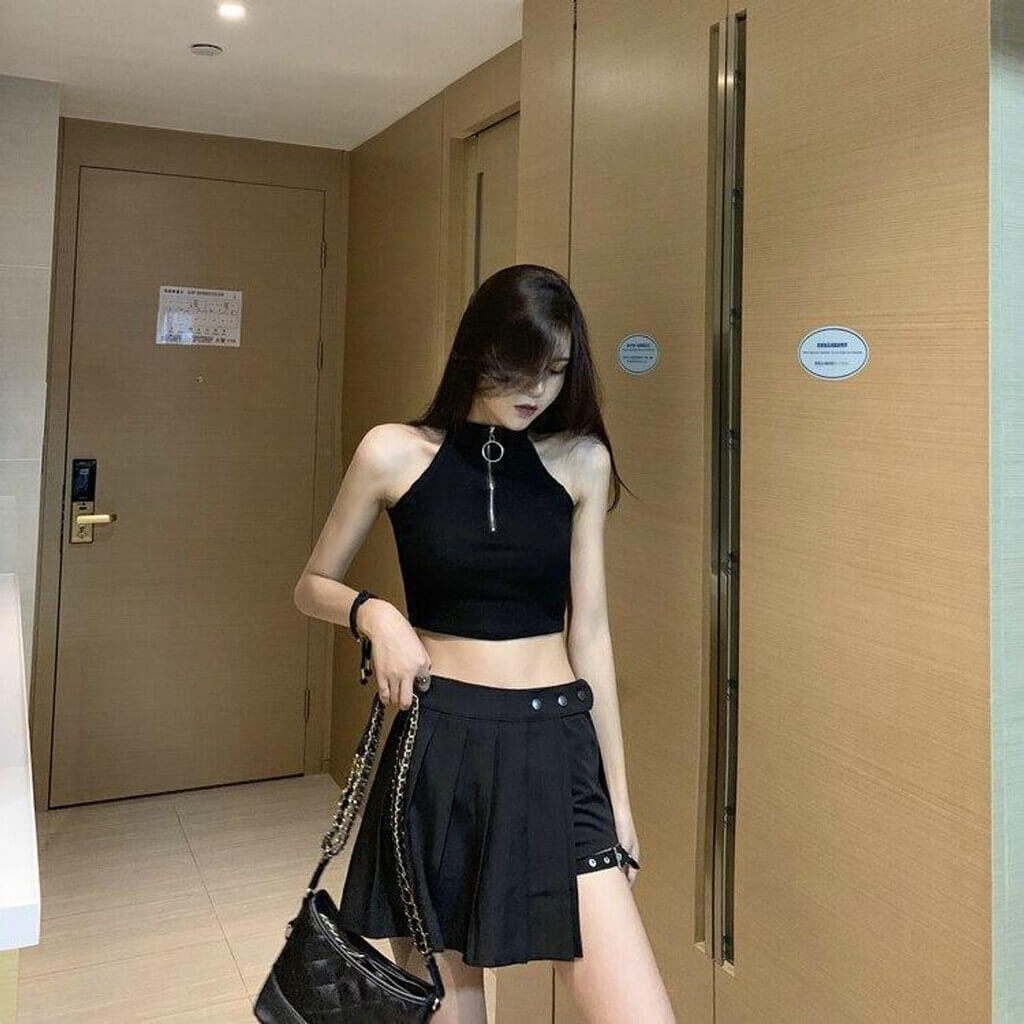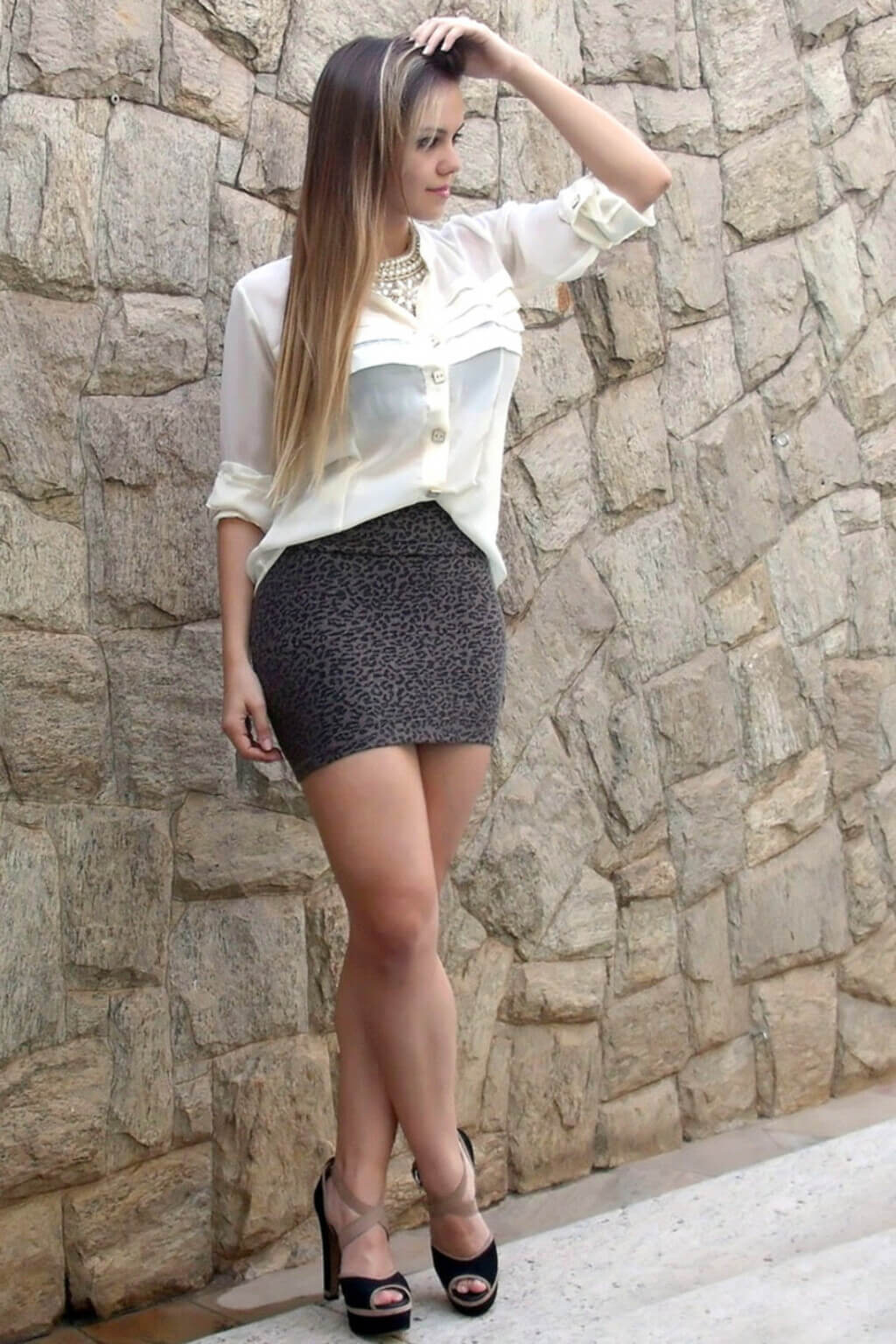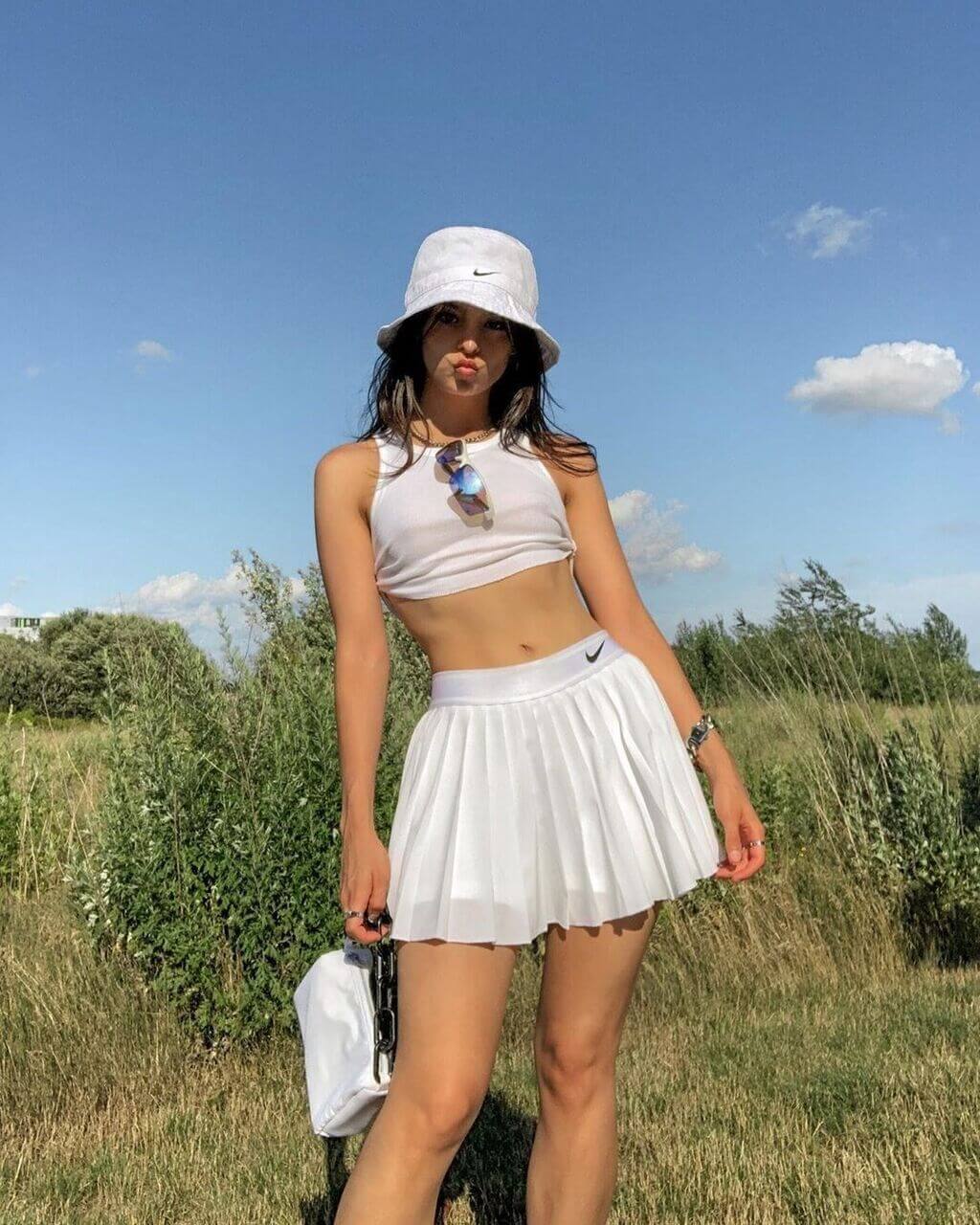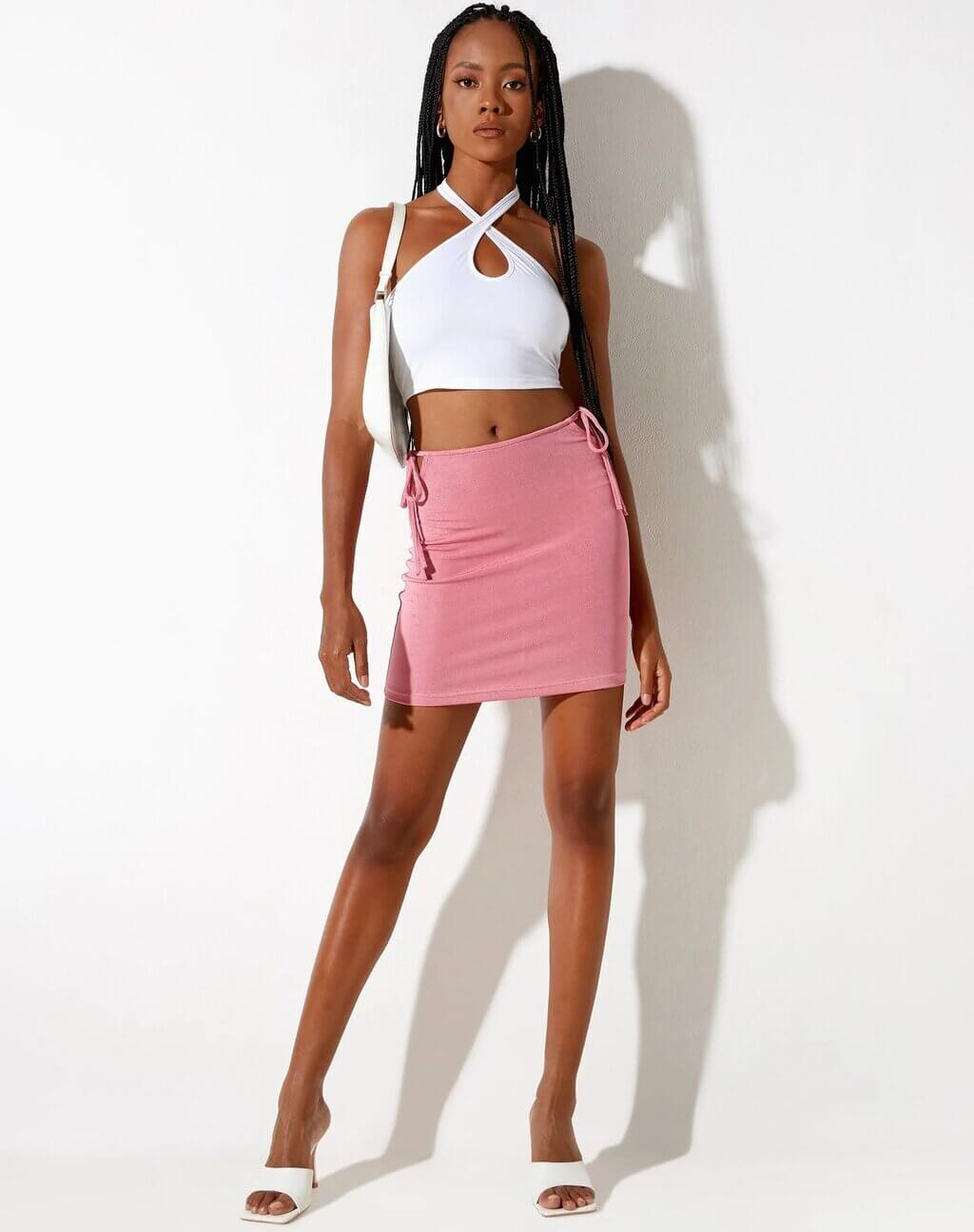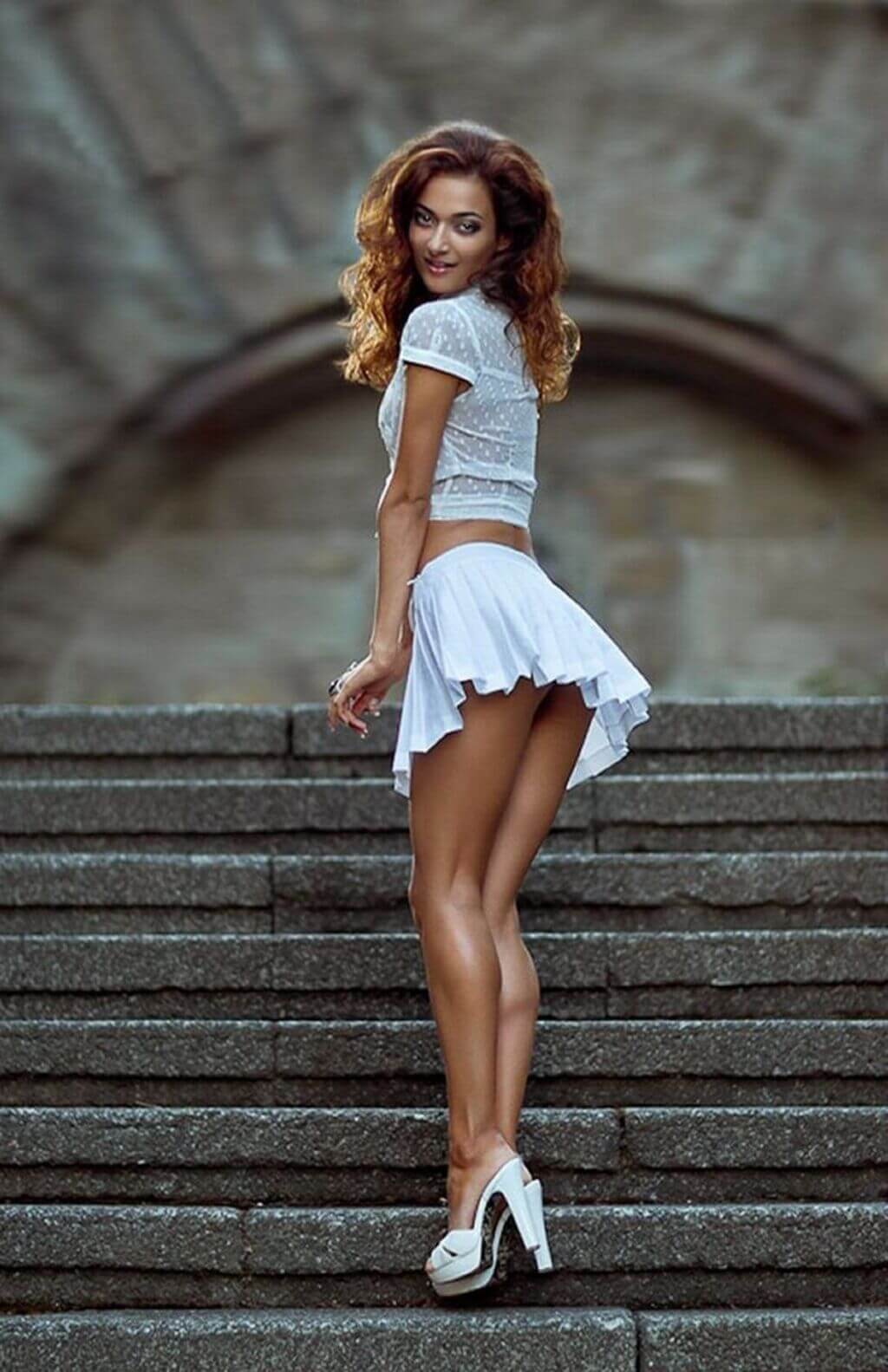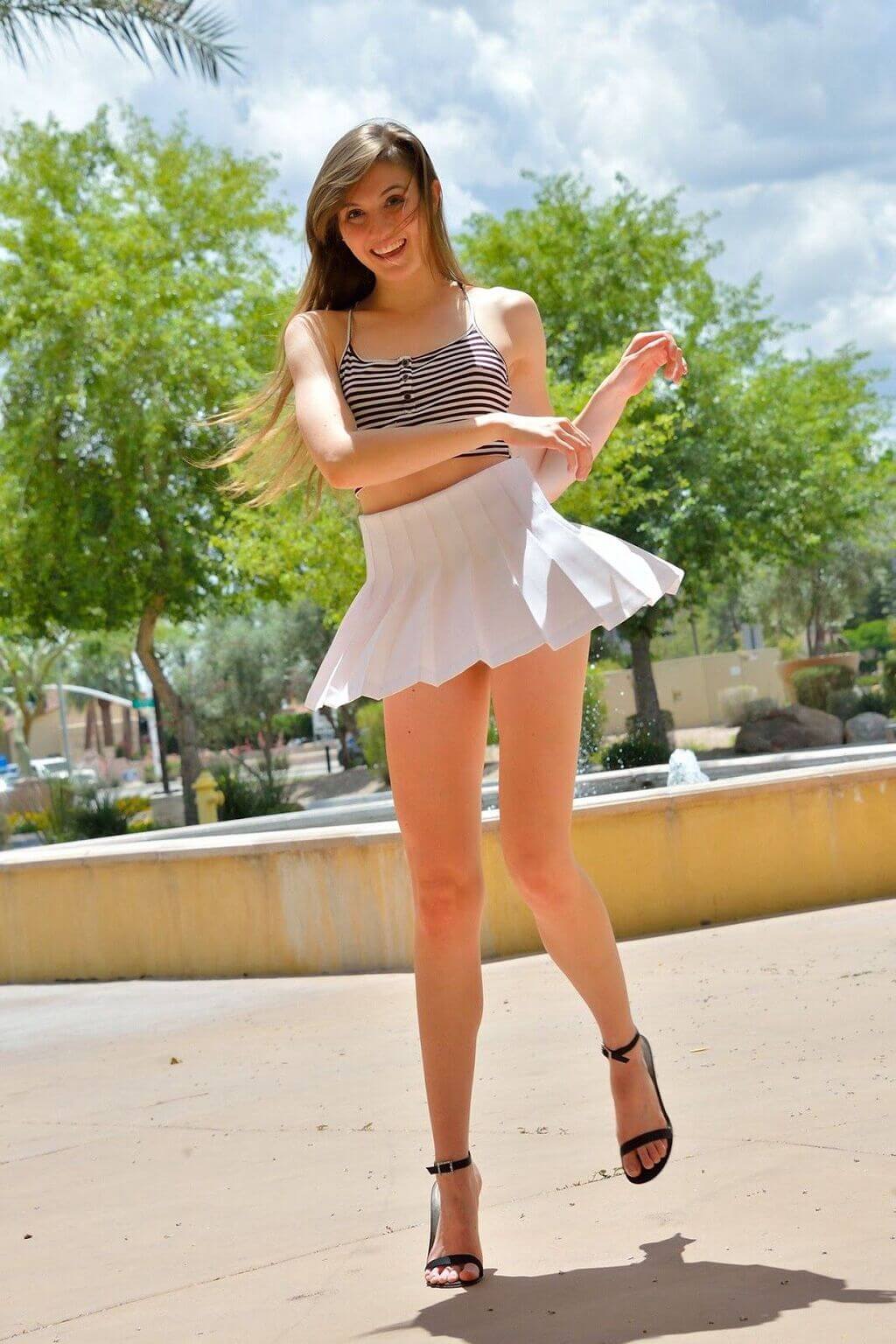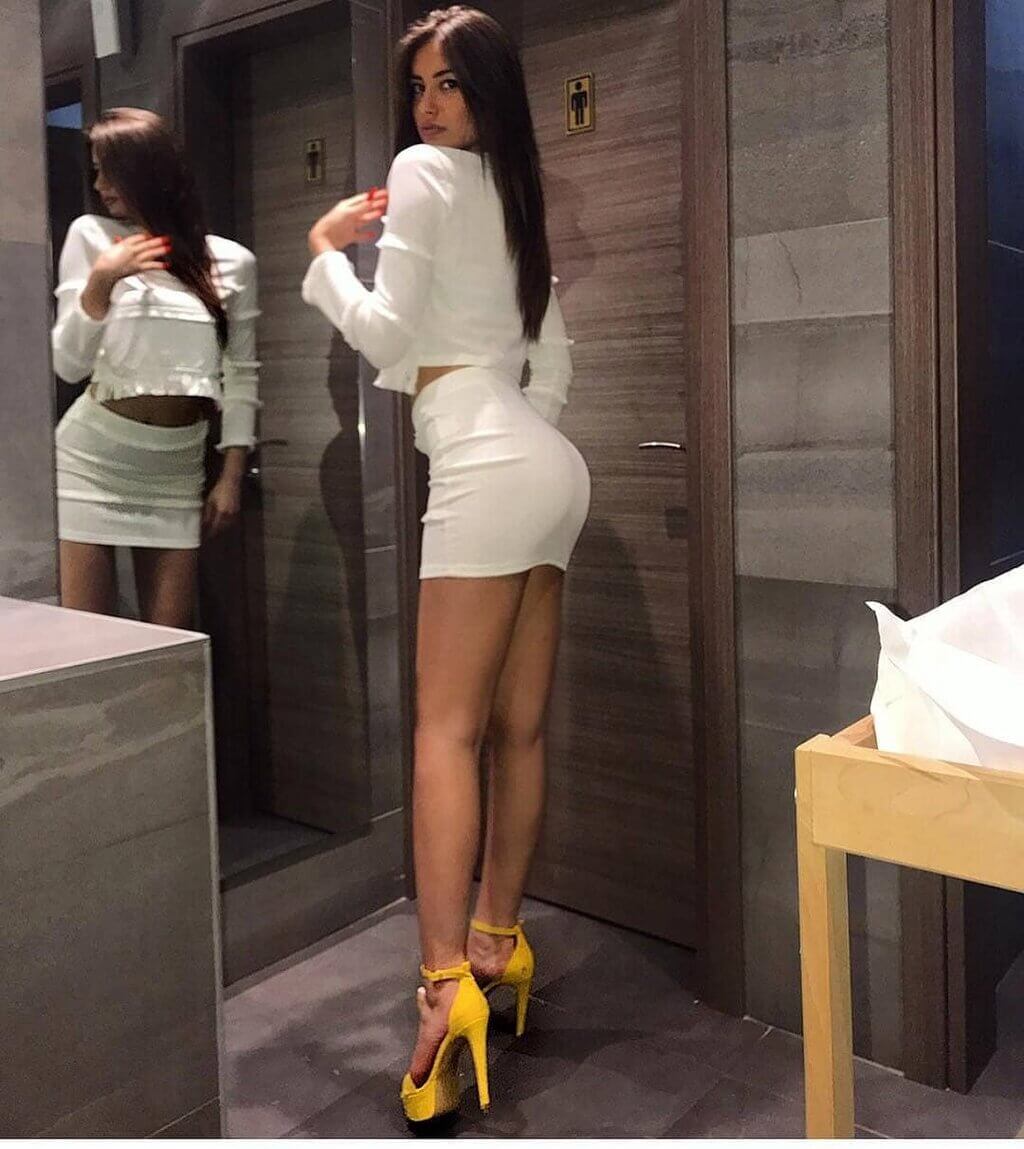 Final Thoughts
So, this is all about sexy women in short skirts. Mini skirts are versatile and elegant clothing pieces that can be worn in many different ways for different occasions and events.
I hope this guide on sexy girls in short skirts outfit ideas has given you some inspiration for your next outfit look. If you find this blog informative and helpful, share it with your friends and family to learn about this popular mini skirt trend of the year.
For more detail: