Tattoos are a way to express one's emotions, values, and beliefs. The tattoo also looks attractive, which may elevate your overall look. Here, we will share some of the best thigh tattoos for women.

Thigh tattoos are a sexy and feminine choice and especially suitable for women who want to make a statement and are bold enough to stand apart from others. Stick with us to know about some of the best thigh tattoos for women, which are unique, attractive, and beautiful.

There is a huge list of thigh tattoos, and if you try to research, you may get confused and not come to a conclusion. So, here we will fade your confusion and give you the list of the best thigh tattoos for women saving you time and effort. 
Best Thigh Tattoos for Women
1. Beautiful Birds and Flower Tattoo
If you are a beach person who enjoys going to the beach for fun or leisure, you definitely need to consider flaunting this beautiful bird & flower tattoo.
The tattoo is inspired by the birds sucking the nectar from the flowers. The tattoo perfectly fits on the thigh and looks very attractive.
2. Front Thigh Tattoo
The front thigh tattoo is the popular body spot to get a tattoo. The tattoo here will look sexy, fierce, and bold. If you get a tattoo here, you can choose whether to flaunt your tattoo or hide from others. You can also flaunt the tattoo at parties and cover it when you are in corporate offices.
Now, you can get a feminine tattoo or a badass female thigh tattoo. You can ink your front thighs with tattoos of tribal symbols, roses, compasses, clocks, and even butterflies.
The front thigh tattoos for females will steal the show in summer when you are in shorts or enjoying your day at the beach or pool.
3. Unicorn Tattoo
Wow, beautiful! That's what comes to the mind of most people. Everyone loves this beautiful mythical creature. Get this tattoo on your thigh to enjoy special attention.
4. Large Skull Tattoo
The skull tattoos on females are a fascinating tattoo idea; however, it is for the bold ones. The tattoo covers the entire thighs, and the skulls are fitted with feathers, making them look like a crown. Remember, this is a cool tattoo, but very few choose to get this tattoo.
5. Moon Tattoo
It is a unique thigh tattoo where the moon is nicely inked on the leg in the dark images, just like the sky. The surrounding decorations make the tattoo very beautiful. It is a very pretty and interesting thigh tattoo.
6. Red Flower
A beautiful red flower is one of the prettiest thigh tattoos for women. This beautiful tattoo can just elevate your look. The tattoo is the right choice for women who want to show off their thighs.
7. Dragon Thigh Tattoo
A dragon thigh tattoo is a popular design featuring a mythical creature. Dragons are often seen as symbols of strength, power, and wisdom, making them a popular choice for tattoo enthusiasts.
8. Dream Catcher Thigh Tattoo
A dream catcher thigh tattoo typically includes a web-like design adorned with feathers and beads. The tattoo is often seen as a symbol of protection, believed to catch and filter out bad dreams while allowing good ones to pass through.
9. Phoenix Feminine Classy Thigh Tattoo
The phoenix's feminine classy thigh tattoos represent rebirth and emerging from the ashes. It is a pretty tattoo design that reflects optimism and hope. The tattoo is enough to make a statement.
10. Clock Thigh Tattoo
A clock thigh tattoo on females typically features an ornate timepiece, often with intricate details and symbolism. The tattoo can represent the passage of time, mortality, or the importance of living in the present moment.
11. Anchor Thigh Tattoo
If you aren't looking for a big tattoo, you should go for the anchor thigh tattoo, as this tattoo will be in the center of the thigh and take only a little space.
12. Tiger Feminine Classy Thigh Tattoo
This tattoo is the perfect choice for women with strong personalities. The tiger is drawn such that it follows the contours of your hips and thighs. You could also incorporate additional elements like flowers or stars to make your tattoo even more unique and to convey your message.
13. Koi Fish Female Side Tattoo
If you want a tattoo with a strong meaning, go for the koi fish female side thigh tattoos.
Koi fish stands for power, freedom, fortune, and wealth. Get the tattoo to infuse good thinking throughout your body & soul. It is a classy side thigh tattoo that can be attractive and decent at the same time.
14. Tribal Tattoos
Tribal tattoos are the right choice for women not interested in feminine tattoos. The modern style of the tattoo can draw the eyes of others towards your thigh; it is one of the very attractive women's small thigh tattoos.
15. Love Band Thigh Tattoo
This tattoo is designed like a band has been tied around the thigh. The tattoo is very creative as the band seems to be attached to the skin through cuttings around the skin. It also has a knot that can be seen from a distance.
16. Beautiful Fish Tattoo
The fish tattoo is a small tattoo that easily fits on the thighs. Red color makes the tattoo look among the top women's unique thigh tattoos.
17. Cat Tattoo
If you are a cat lover, this can be an amazing tattoo. The tattoo is nicely inked and will look like the cat is staring at you. The cat will also have beautiful surroundings, making this tattoo very attractive.
18. Red Birds Tattoo
Red is such a color that can be easily visible even from a distance, and at the same time, it is attractive. So, if you get this tattoo, be ready to catch everyone's attention.
The tattoo consists of two beautiful red birds along with the tree twigs. You will love this amazing tattoo.
19. Kite Tattoo
We grew up looking at and playing with kites. So, it is one of those tattoos that can revive your beautiful memories.
20. Elephant Tattoo
It is one of the tattoos that are best for animal lovers. The black and white tattoo depicts an African elephant walking with rose flowers.
21. Cool Wolf Tattoo
This tattoo suits women who want a sext tattoo on the thigh. The tattoo depicts a wolf with details that are not like the normal look of the wolf.
The wolf has many head patterns that provide a feminine look to the thigh tattoos.
22. Black and White Rose Tattoo
If you want a unique tattoo, go with the black and white rose tattoo. It will make you stand apart from others. The tattoo has two rose flowers next to each other, which look very beautiful.
23. Cool Compass Tattoo
A compass thigh tattoo is a unique and stylish way to express your love for travel and exploration. A timeless design that adds a touch of sophistication to any outfit. Go ahead, show off your adventurous spirit!
24. Lotus Flower
Lotus is associated with spirituality. So if you want to show your inner spiritual side, go with this tattoo. You also have the option to keep this tattoo private!
25. Mandala Lion Thigh Tattoo
The Mandala lion thigh tattoo is a powerful and symbolic design that represents strength, courage, and inner peace. A stunning piece of art that adds a touch of spirituality and elegance to your body. Roar with confidence and grace.
26. Butterfly Small Thigh Tattoo
A small butterfly thigh tattoo is a delicate and popular design choice. The intricate details of a butterfly can be showcased on the thigh area, creating a stunning and subtle piece of body art.
27. Blueberry Front Thigh Tattoo
Blueberries are a representation of new beginnings and good fortune. So, it is a meaningful and one of the highly attractive thigh tattoos for women.
28. Owl Tattoo
An owl thigh tattoo is amongst the thigh tattoos with meaning and stylish choice for women. The owl symbolizes wisdom, intuition, and intelligence and can be beautifully displayed on the thigh area as a stunning piece of body art.
29. Beautiful Floral Garter Tattoo
Garter tattoos are stylish, sexy, and beautiful. The design has pretty pink flowers that nicely wrap around the thigh. You can simply recreate this look or can customize it a bit as per your wish.
30. Sun and Moon Thigh Tattoo
At last, we have the sun and moon tattoo, which represents the balance between two energies, just like the popular yin and yang tattoo. The tattoo is very attractive in look.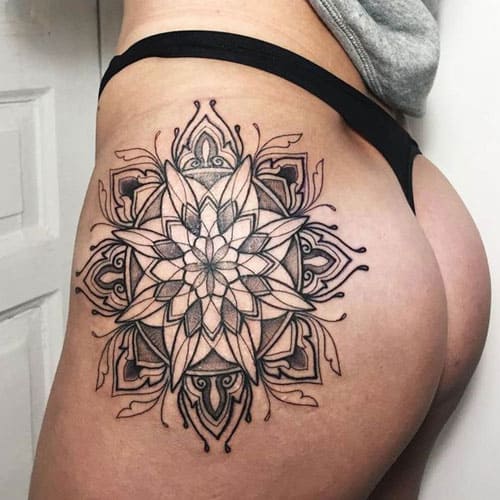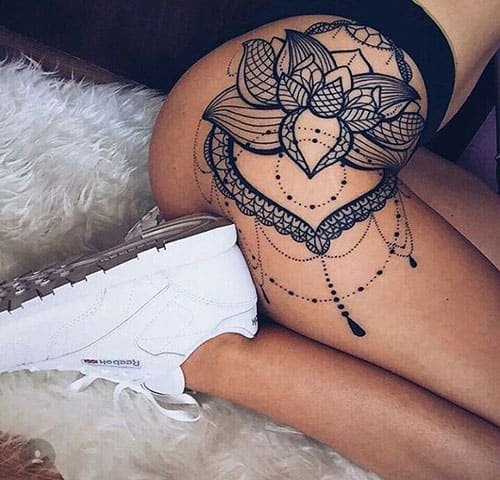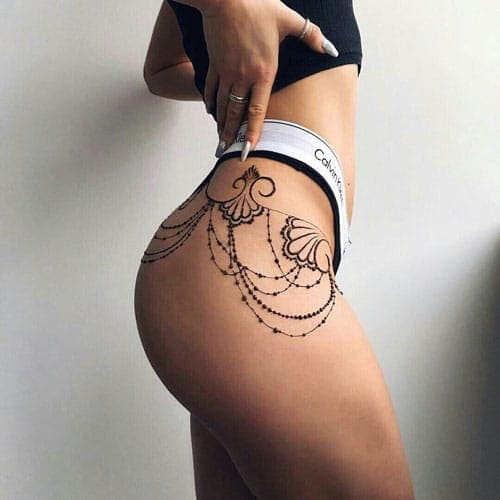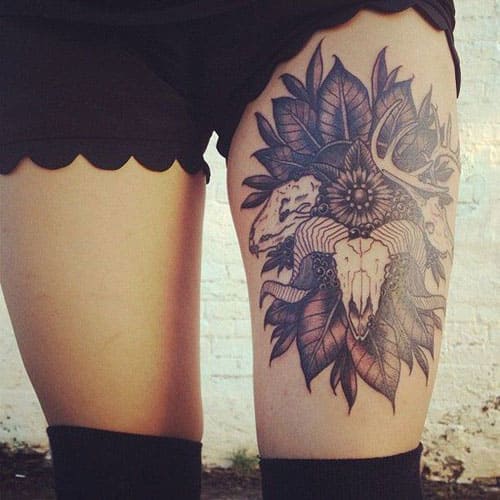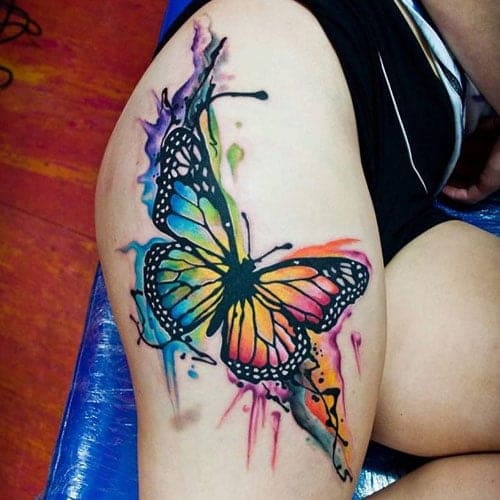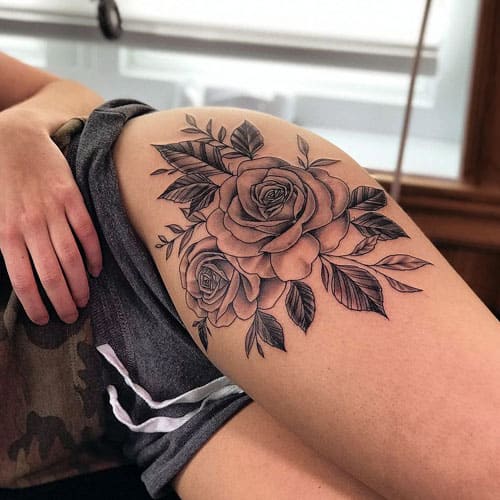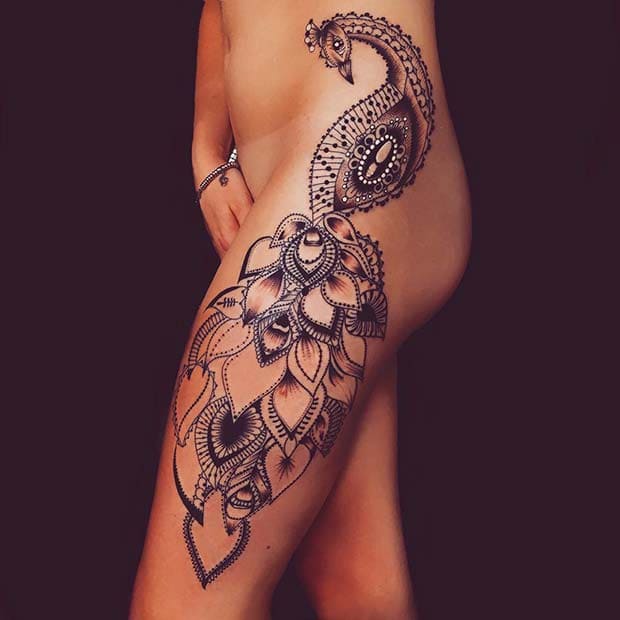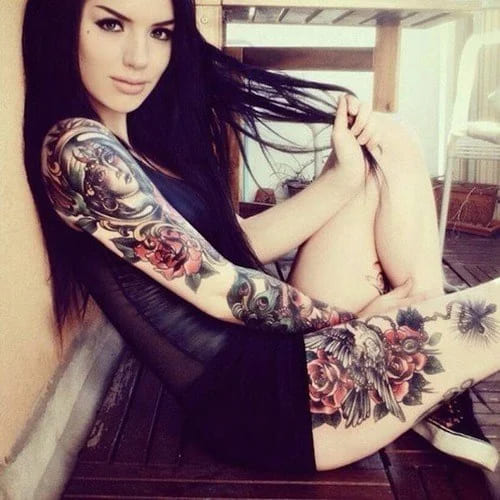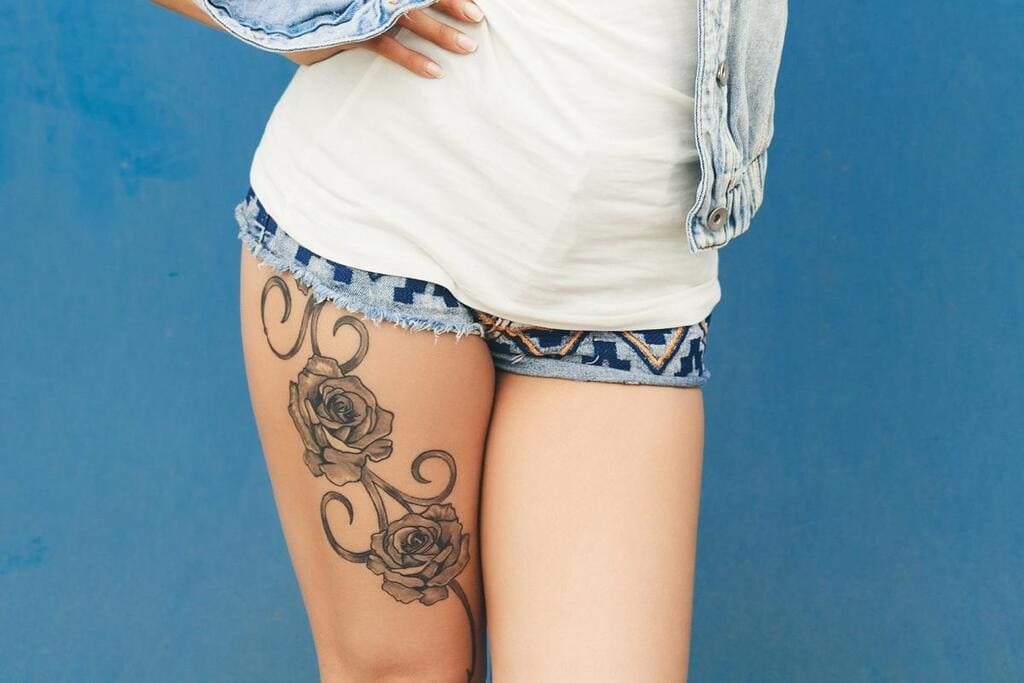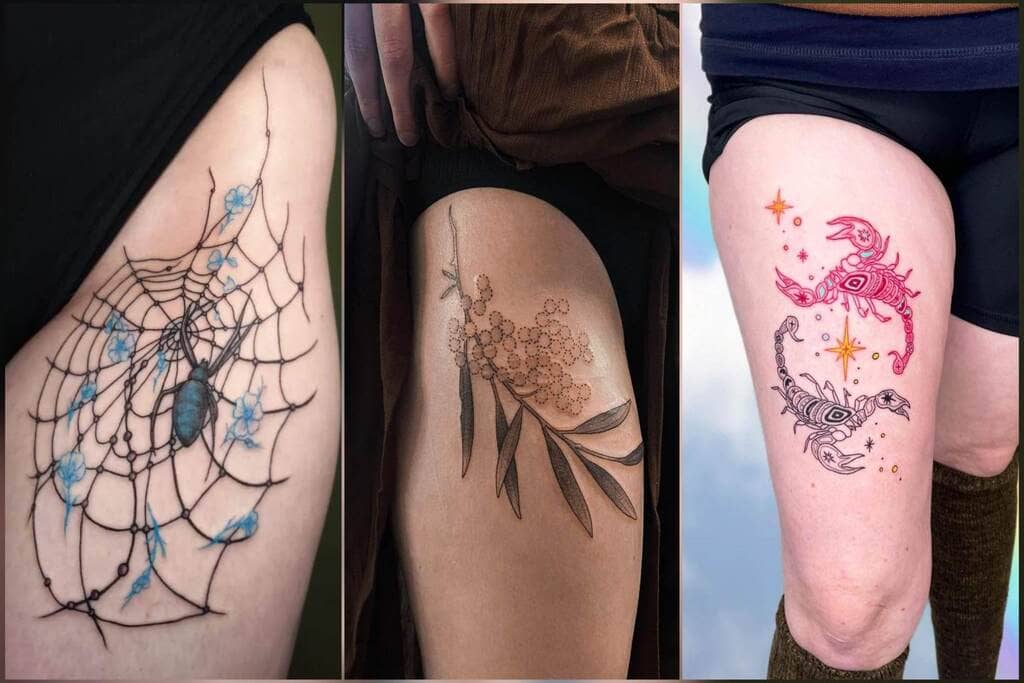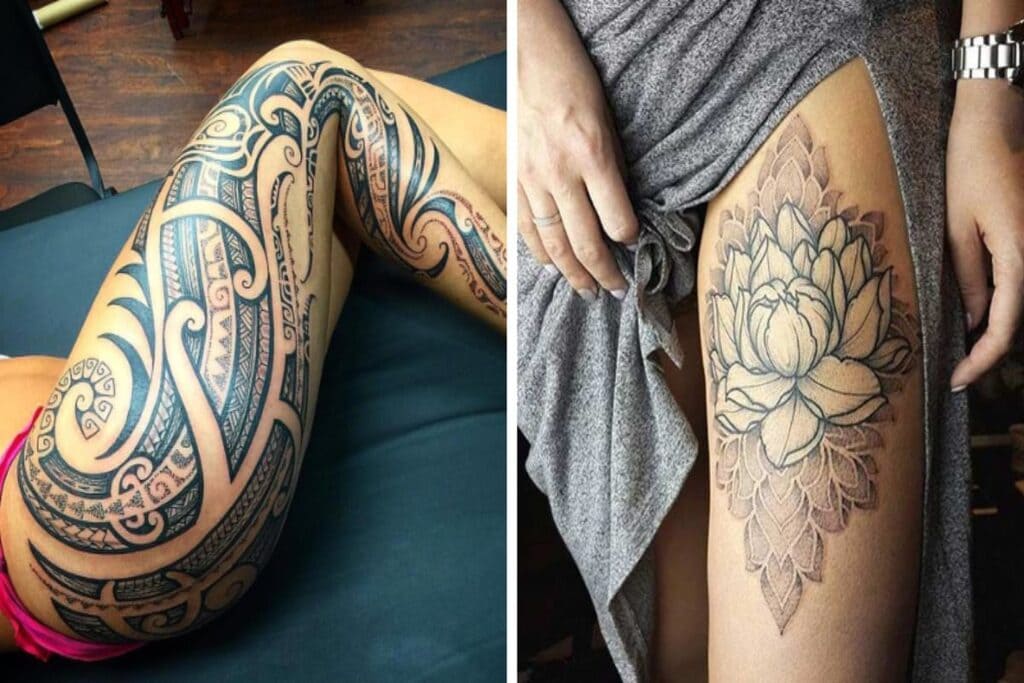 FAQs
1. How Much Does a Thigh Tattoo Cost? 
The cost of a thigh tattoo will depend on the design's size, complexity, and location. On average, a thigh tattoo can start low from $150 and can go to $2000.
2. How Painful Is Getting a Thigh Tattoo? 
The pain level can vary from person to person, but the thigh area is generally considered one of the less painful places to get a tattoo.
3. How Long Does a Thigh Tattoo Take to Heal? 
The healing time can vary, but generally, it takes 2-3 weeks for the initial healing and up to 2 months for the tattoo to fully heal and settle into the skin. 
Final Thoughts
Here, we end our blog on the best thigh tattoos for women. We have mentioned some of the finest tattoos you can ink on your thighs. However, choose a good professional tattoo artist to get the perfect thigh tattoo.
More from The Dezayno