Funerals are undoubtedly one of the most emotional events that anyone can attend. It's a time to pay our respects, say goodbye, and offer comfort to those who have lost someone dear. And most importantly, saying goodbyes to our loved ones is never easy, and not knowing what to wear to a funeral is an added stress.

Whether you're attending the memorial service as a family member, friend, or acquaintance, it's always vital to dress appropriately and respectfully. In this sensitive moment, knowing what to wear is important in showing respect for the deceased and their family. You may have also asked your friend or family member: what do you wear to a funeral? But still, get confused about it.

Don't know what to wear at a funeral? No worries, you're on the right page!

Today in this post, we'll share helpful guidelines on what to wear to the memorial service. We have included guidelines for appropriate funeral attire men, funeral attire women, and funeral attire children.

So, keep reading till the end and know all the guidelines, so you'll never disappoint others with your irrelevant or inappropriate dressing while paying your final respects.

Let's begin with the general guidelines.
What to Wear To a Funeral: General Guidelines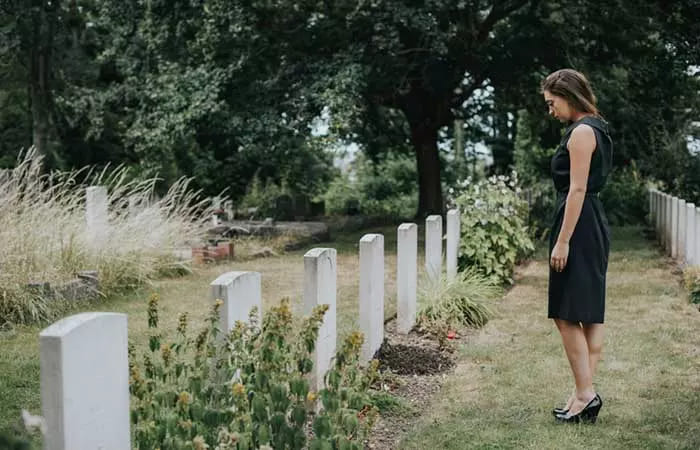 So, what is appropriate clothing for a funeral?
While deciding what to wear to a memorial service, remember that this will be a formal event. This is why it's crucial to dress in simple and conservative clothing. It is the best way to show respect and love to the person whose life you're remembering. You can also check out these timeless fashion trends.
Here are some general guidelines:
Try to avoid wearing flashy and bright-colored clothes.
The appropriate clothing includes mostly black or dark-colored clothes. You can wear anything in dark colors, from dresses and pants to sweaters and jackets, according to the season.
Never wear tank tops, shorts, short dresses, sundresses, flip-flops, and casual tennis shoes.
| | |
| --- | --- |
| Gender | Appropriate Funeral Attire |
| Men | Dark suit or dress pants and a button-down shirt |
| Women | Dark dress or skirt and a blouse |
| Children | Dark pants or a skirt and a shirt or blouse |
Now let's know in detail what you should wear while attending a funeral service.
What to Wear To a Funeral: Women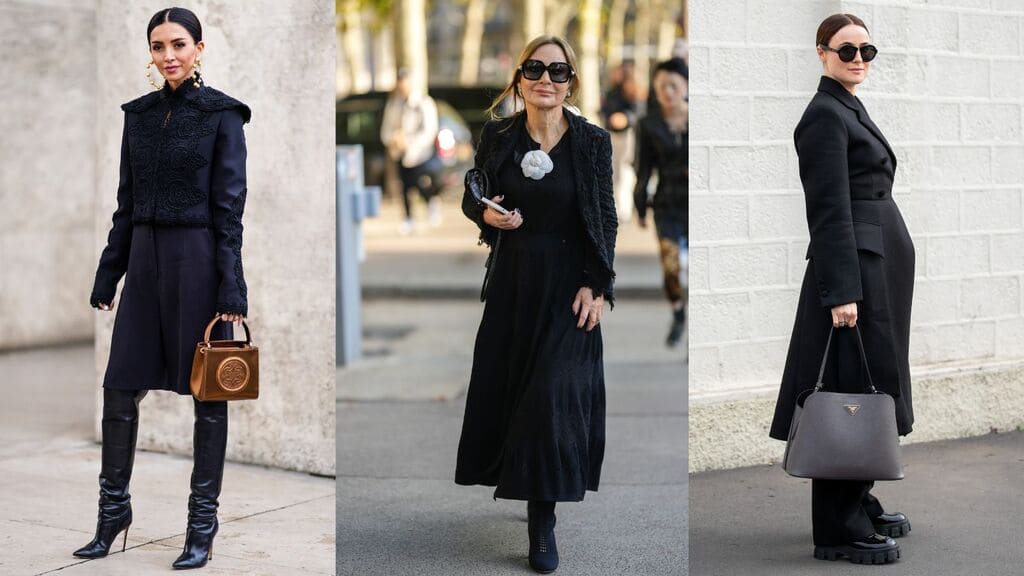 What women should wear to a funeral?
While selecting the clothes, it is essential to keep in mind the level of formality of the event. For girls and women, appropriate attire includes a skirt or pantsuit in a dark color, closed-toe shoes, and a blouse with a conservative neckline. And still, if you're unsure about what to wear to a funeral, it's always better to dress formally and more conservatively.
Here's what to wear to funeral woman guidelines:
Dress or Skirt & Blouse
Choose a modest, simple dress or skirt and blouse combination in dark colors like black, navy blue, or gray. It is appropriate for women attending a memorial service to dress conservatively. Avoid overly revealing or flashy clothing. A knee-length or longer skirt is the most appropriate choice. A blouse should have sleeves that cover the shoulders. You can see these best sustainable dresses.
Skirt Suit or Pantsuit/Jumpsuit
Suits are also a good option for women. Select a traditional black skirt suit or pantsuit or jumpsuit. Colors like navy blue or dark gray pantsuits are also acceptable, but ensure the hemline falls at or below the knee.
Cardigan, Jumper, or Blazer
You can add an extra layer of clothing for the cold season. Wear a cardigan or blazer over your dress to smarten up the look.
Colors and Patterns
Stick to dark or muted colors and avoid vibrant or eye-catching patterns. Solid colors or subtle patterns are also appropriate for a funeral.
Accessories
Keep jewelry and accessories minimal and understated. A simple necklace or bracelet is the most suitable choice. Avoid loud or excessive accessories like large and flashy earrings as they may distract attention.
Shoes
The most traditional choice is a black closed-toe shoe with a low heel or flats. However, navy blue or dark gray shoes are also acceptable. Don't wear overly casual footwear such as sneakers, flip-flops, or sandals.
What to Wear To a Funeral: Men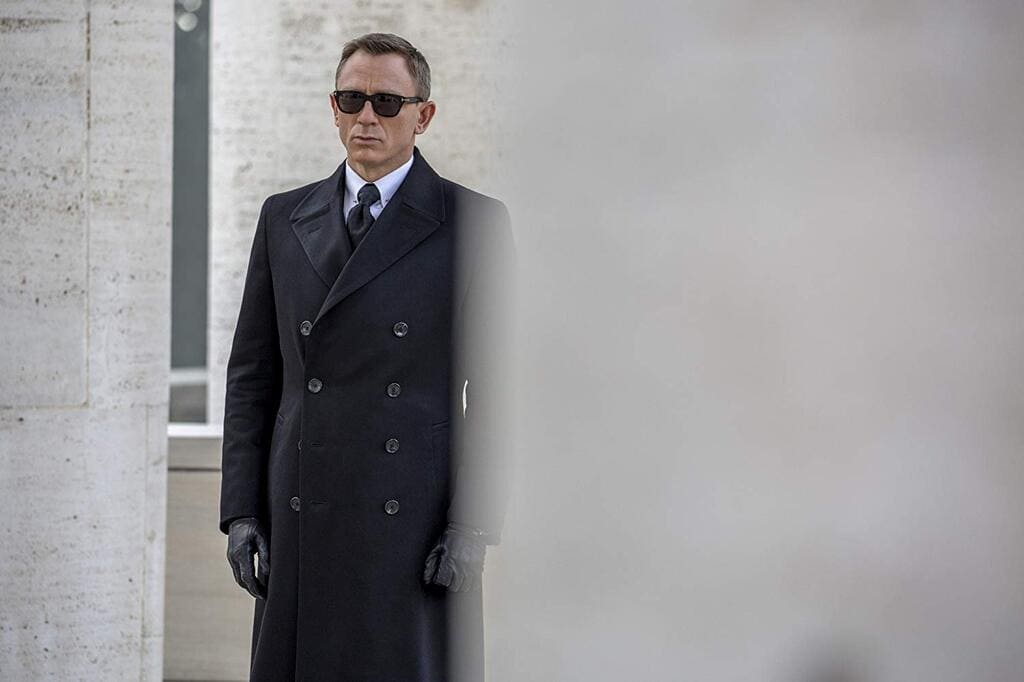 Regardless of the season, funerals and memorial services are sad occasions. This is why it's vital to wear something that reflects this. For men, it's essential not to wear anything too casual or flashy.
Here's what men should wear while attending a funeral:
Suit or Dress Pants
Select a well-fitted suit in a dark color such as black, charcoal gray, or navy blue. If you're wearing dress pants to the funeral, make sure to wear them with a simple collared shirt and a blazer.
Dress Shirts
Wear a long-sleeved, button-down dress shirt in white or subdued color. Avoid bright colors and patterns. A white shirt is preferable, but light blue or light gray colors are also appropriate for a funeral service.
Tie
A tie is optional in mens funeral attire, but we still recommend wearing ties to funerals and memorial services. A tie is considered a sign of respect, so wear a conservative plain black tie. Apart from black, you can also opt for a navy blue or dark gray tie.
Shoes
Always wear clean and polished dress shoes in black or brown. Brogues or oxfords style dress shoes are more popular, but any smart navy blue or dark gray shoes are also acceptable.
Accessories
On occasions like funerals, it's recommended for men to keep accessories minimal. Do not wear excessive jewelry, hats, sunglasses, or anything distracting.
What to Wear To a Funeral: Teens & Children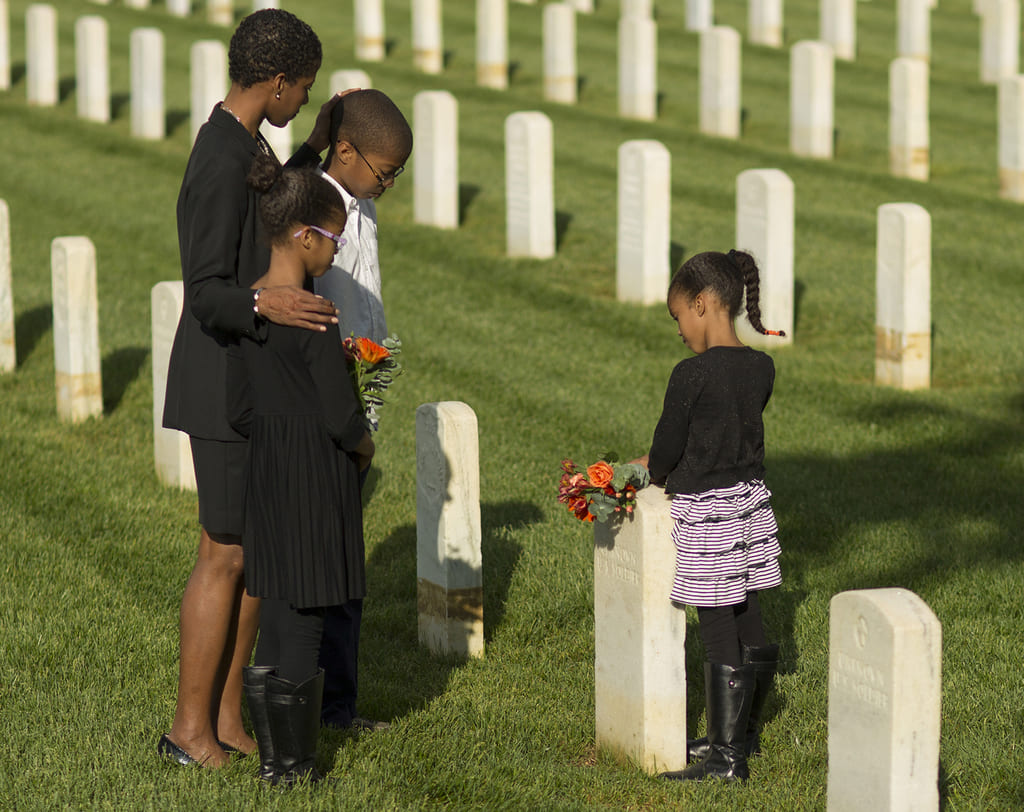 When it comes to children, there is more flexibility. But still, clothing should be respectful and appropriate for the occasion.
Here's what should children wear to a funeral:
Boys:
Older boys should wear pantsuits in dark colors. Younger kids can wear trousers, a dress shirt, and a tie with smart black or brown shoes.
Girls:
Dark-colored knee-length or longer dress, skirt with a plain top or blouse, and cardigan is proper funeral attire for girls. Choose appropriate funeral attire in dark or muted colors and avoid overly elaborate or bright outfits. Girls should wear closed-toe and comfortable shoes. Avoid anything too flashy or revealing.
What Not To Wear To A Funeral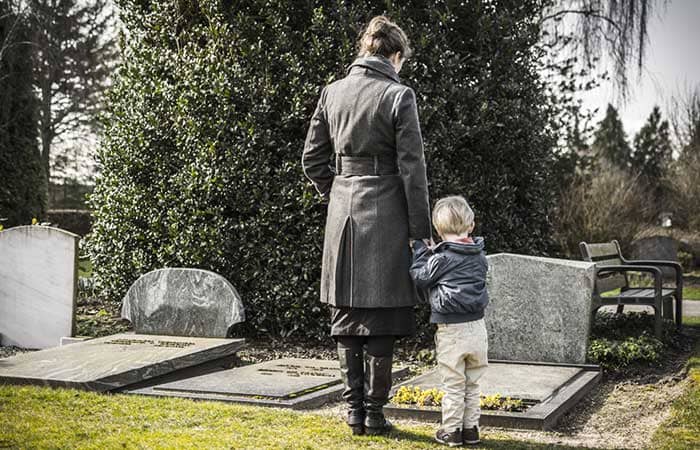 Now you know what you can wear to a funeral, but what about things you can't wear? Yes, there are things about your funeral attire that you should keep in mind while attending these stressful and solemn occasions.
Here are a few things that you should avoid wearing.
FAQ
1. What Is the Most Appropriate Attire for a Funeral?
The most appropriate funeral attire is dark, formal, and conservative clothing. A dark suit or dress pants and a button-down shirt are appropriate for men. For women, a dark dress or skirt and a blouse are appropriate. Avoid wearing anything too casual, flashy, or revealing.
2. Is It Necessary to Wear Black to a Funeral?
Wearing black is traditionally associated with mourning and is considered appropriate for funerals. However, it is not compulsory. Besides black, dark and neutral colors like gray, navy blue, or deep shades of brown are also acceptable.
3. Can I Wear Jeans to a Funeral?
Jeans are considered too casual for a funeral, which is not proper funeral attire. You should wear more formal attire, such as dress pants or a suit for men and a dress or suit for women. However, if the family specifically requests casual attire, you may consider wearing dark, well-fitting jeans with a respectful top.
4. What Accessories Are Appropriate for a Funeral?
Keep your jewelry and accessories minimal and understated. Avoid excessive jewelry or anything that could be distracting. Simple accessories, such as a single piece of jewelry or a subdued tie pin, can be appropriate choices.
5. Is It Acceptable to Wear Religious or Cultural Attire to a Funeral?
Wearing religious or cultural attire at a funeral can be a meaningful way to honor your traditions and beliefs. However, it is essential to ensure that the attire remains respectful and modest, adhering to the overall tone of the occasion
Final Thoughts 
A funeral is a somber occasion, and choosing the right attire demonstrates your respect for the deceased and their family. Remember to dress conservatively and comfortably to show your understanding of the occasion's solemnity. You can wear a formal dress or suit in neutral colors like black and navy blue with appropriate shoes. Avoid flashy or attention-seeking clothing.
The most important thing is to be respectful and remember the deceased in a dignified way.
We hope that our guidelines on what to wear to a funeral men, women, and kids, have helped you decide what to wear for the funeral service of your loved one. Follow the above tips and guidelines and pay your respects to the deceased and their loved ones.
More from The Dezayno